USD/CAD Confirming Bearish Breakdown of Support at 1.31; 1.28 Could be Next
In June we noted that $USDCAD broke a key trendline support and gave a bearish outlook with a target around 1.29-1.30. A month later, this bearish outlook is materializing, and the USD/CAD rate will likely enter this target area in July.
USD/CAD Confirms Breakdown of a Rising Channel; 1.29-1.30 Could be the Target in an ABC Scenario
USD/CAD Daily Chart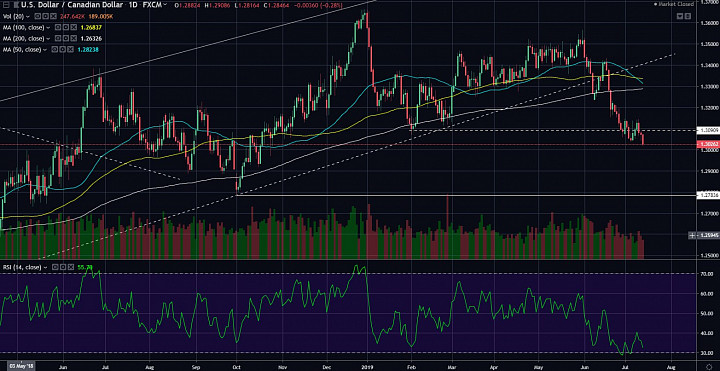 (click to enlarge)
Another Bearish Sign:
- As we can see on the daily chart, price did extend lower after breaking down the rising trendline and the cluster of moving averages, which all provided support at first.
- When USD/CAD came down to the 1.31 area, it cracked the support but consolidated here for a couple of weeks.
- At the end of last week however, price confirmed the bearish breakdown of this support area.
- the 1.29-1.30 area is therefore even more viable.
Next Support:
- While 1.29-1.30 area is a target for an ABC correction scenario, the next key support would be around the 1.2750-1.28 area.
- I did not trade this dip, but if I had exposure, I would plan to scale out around 1.2950 and completely close out around 1.2825.
- I would not consider buying just yet. In fact, if price does bounce from 1.28 to 1.30, I would consider opening up a short position.