General Motors (GM) - This Might be a Good Spot for a Bullish Swing
General Motors has been choppy since late 2017, after a strong run almost to the $47 a share level. Then, it corrected to just below the $35 level. As we can see on the daily chart, price continued to chop. BUT, we did see a pretty strong upswing in June that brought price to $45. Could this bullish swing have started a bull run? The current retracement back to $39 could offer a clue.
GM Daily Chart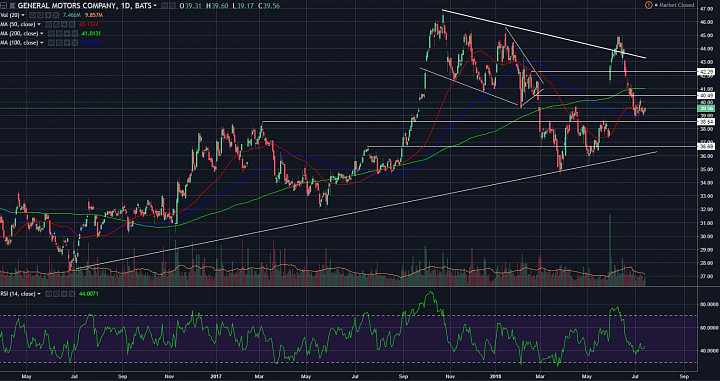 (click to enlarge)
A Key Support for the Bullish Scenario:
- IF GM is still bullish in the medium-term to long-term, price should find support above $38.
- This is a key support/resistance pivot. So far, the market is treating this area as support.
- Also note that the RSI is right around 40. Turning up from here would reflect maintenance of the bullish momentum.
- Lastly, note that price action has essentially closed the bullish price gap back at the end of May.
- If price holds above $38 and climbs above $40, we should be looking for an eventual run up to $45 to test this common resistance since Nov, 2017.
- Being able to make it back to this high also suggests a bullish bias towards the 2017 high ($46.76) and above.