Overstock (OSTK) - Look Out For Resistance as Rebound Approaches $16
Overstock $OSTK has been on a strong recovery rally since it fell below $10. The daily chart below shows price consolidating right around $10 in June followed by a rally that is now pushing price above $14.50. However, I think we should limit the upside to the $16-$16.50 area.
OSTK Daily Chart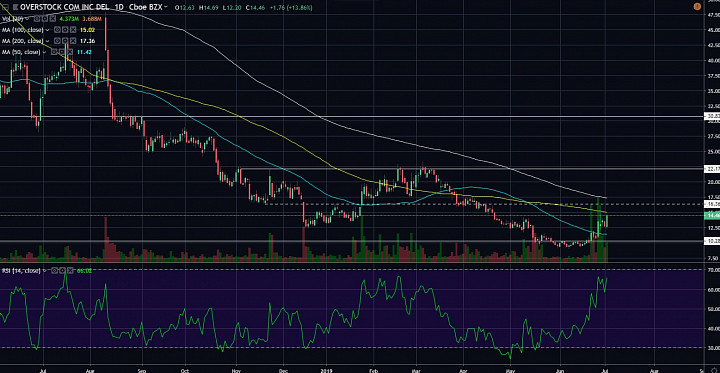 (click to enlarge)
Bearish Trend:
- First of all, note that the prevailing trend is bearish.
- in 2017, it shot up from around the $15 area up to almost $90 before retracing that Bitcoin-induced mania.
- Price has now erased all those gains and was cracked the 2016 low around $10.25.
- Price has therefore gotten back below those lows in 2017. This suggests the market not only flushed out the bitcoin mania from OSTK, but is bearish on OSTK on top of that.
Resistance:
- As price pulls back up towards $16, we can see that OSTK will be encountering some resistance factors, including a previous support pivot.
- Price will also be approaching the 200-day simple moving average (SMA).
- The RSI might also tag 70, an overbought signal.
- There is really no reason to believe OSTK has pivoted, so I still think this June-July rally so far is a dead-cat-bounce, helped somewhat by the most recent iteration of the crypto-mania.
- Still, if price does clear $16, $20 could be next, but I would not look for upside above that.
Downside:
- In terms of the downside, OSTK is supported at $12 in the short-term.
- A break below $12 would be a sign of bearish continuation.
- I think we are most likely going to find OSTK consolidate within this $12-$16 for a while. But because of the prevailing downtrend, I think there will be more a chance that price will eventually break down $12.
- Below $10, I think the $5 low from 2012 is still in sight.
OSTK Weekly Chart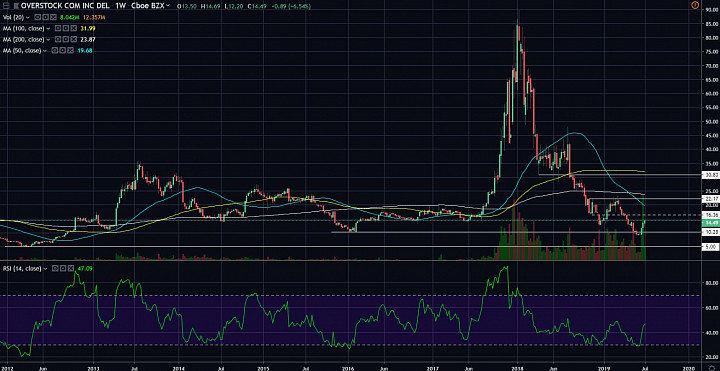 (click to enlarge)