S&P500 Stalls; Fed Minutes Didn't Help
The Federal Open Market Committee (FOMC), the part of the Fed that makes interest rate decisions, is looking to raise rates further in 2018. The fed also cited a rosier growth forecast, although there was some concerns of imbalances due to market forces (probably referring to credit that leaked into the crypto markets).
In any case, the S&P500 has been recovering sharply since the dip a couple of weeks ago. Even during the 2/21 session, the market was mostly bullish, until the release of the Fed minutes.
S&P500 1H Chart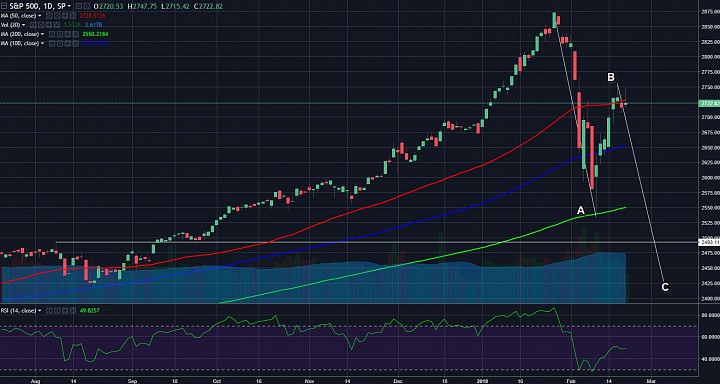 (click to enlarge)
Fed Minutes Stall Recovery:
- Looking a the 1H chart, we can see that the recovery since hitting $2540 has been sharp.
- However, as price stalls under the 200-hour simple moving average (SMA), the Fed minutes added to the pressure at this level.
- IF $SPX falls below $2700, we would likely be witnessing a double dip back towards $2540.
- A more bearish scenario would be an ABC correction shown in the daily chart below, where a C-wave can be projected to almost $2425.
- The $2400-2425 area is actually a previous support, suggesting there could be buyers around this price.
- The $2480-$2500 area is also a support/resistance pivot we should monitor for support.
- Again, the bearish scenario opens up if the SPX closes below 2700 this week.