AUD/USD Has Another Swing Down but 0.7500 is Key Support
$AUDUSD has been bearish since cracking 0.81 in September. Price action on the daily chart suggests another low.

AUD/USD Daily Chart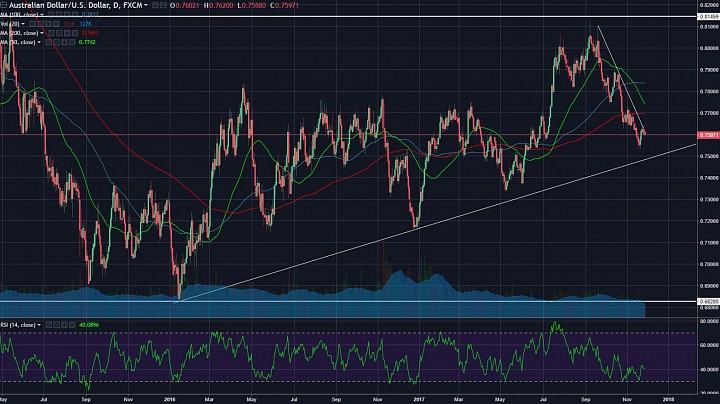 (click to enlarge)
Bearish Swing vs. Bullish Trend:
- The daily chart shows that price action has been bearish since September,
- Looking back to 2016 however, we can see that price is essentially sideways, with a slight bullish trend in the second half of 2017.
- The current dip challenges this bullish outlook.
Negative Reversal:
- The RSI is creating a higher high, while the corresponding price high is lower than the previous .This combination is a "negative reversal" signal, which suggests another swing down in the current bear run.
- If price does make a new recent low, it will probably face support around 0.75.
- Here, there is a rising trend line, and the RSI will likely be around 30, which would reflect oversold condition.
Upside:
- A conservative bullish outlook would be 0.7750.
- A more aggressive target would be 0.81.
- A break above 0.81 would then open up the next pivot around 0.8650.
Downside:
- A break below 0.75 could mean downside to 0.7350 and 0.7150-0.7175.