Litecoin (LTC/USD) Jumps as LitePay Announces Date of Launch
Litecoin (LTCUSD) is soaring after LitePay announced its launch for Feb 26. There was a lot of excitement back in December (when LTC soared as well). The most recent tweet had a more specific date, which added to the anticipation.
LTC/USD rallied sharply from around 160 to almost 220 in 24 hours.
LTC/USD Daily Chart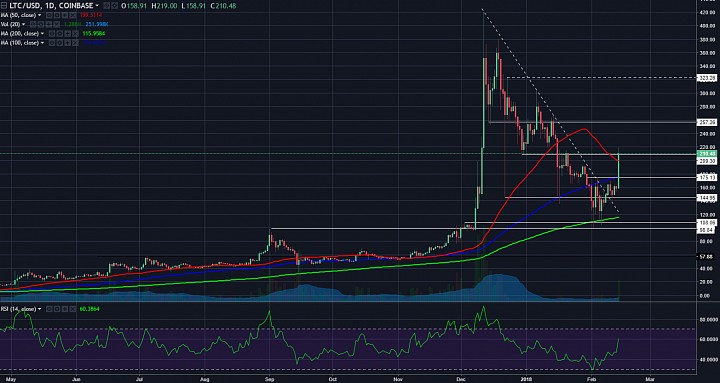 (click to enlarge)

Note that during the bearish correction, price held above the 200-day simple moving average.
Also note that price has shot up to a key support/resistance pivot in the 210-220 area.
The RSI is now at 60. If the overall mode is still bearish, the RSI should hold under 60.
Therefore, price has essentially shot up to a critical resistance. I think we should anticipate some correction here.
Then, we should monitor the 160-180 area for support. Support here can give LTC/USD bulls confidence. Seeing the RSI hold above 40 (instead of pushing to 30) would also be a good sign that the bearish correction is over.