Sprint (S) At the Crossroads, in the Middle of a Multi-Year Triangle
In May, Sprint $S rallied sharply and completed a price bottom. However, it retreated before reaching $8 and respected a falling trendline.
Sprint Weekly Chart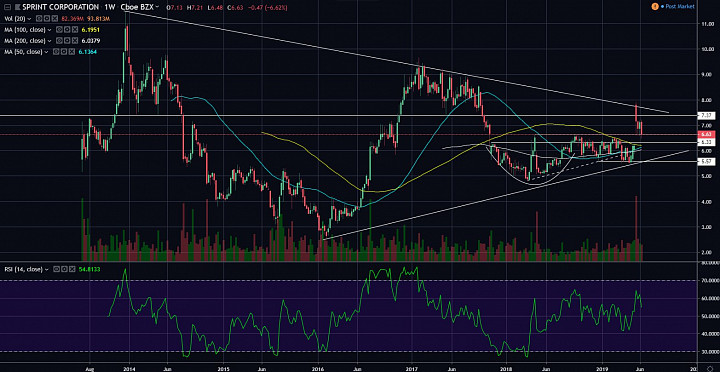 (click to enlarge)
At the Crossroads:
- As we can see on the weekly chart, price held under $8 before falling back below $7.
- This maintains a long-term bearish view
- However, price action since 2018 appears to be a completed price bottom.
- As price is sandwiched between key resistance and a price bottom, we can also say that it is trading into the middle of a mult-year triangle consolidation pattern.
- More recently, price has been retreating and pushing towards the previous key resistance area around $6.50.
- A break below $6.30 would not bode well for the bullish outlook. A break below $6.00 would probably be a strong sign that bears are in charge as it would put price back below the 200-week simple moving average (SMA).
- The $5.50 might be the last line of defense against a bearish outlook. But if price does get there, I would not rely on it for support as it did in late 2018 and the first half of 2019.
- Otherwise, if price can hold above the $6.30-$6.50 area, the price bottom since 2018 would still stand.
- A subsequent rally in this situation could threaten to break the $8.00 resistance again. Above $8.00, Sprint would appear to be out of the consolidation pattern and into a bullish trend.