GBP/USD in Bullish Correction; Resistance Factors Ahead
GBP/USD has been rallying since falling to a new low on the year at 1.5950 last week. It has rallied back above the the price level before the NFP suggesting that USD-strength might be exhausted since a strong US jobs report was unable to keep USD on its bullish trend. 

GBP/USD 4H Chart 10/9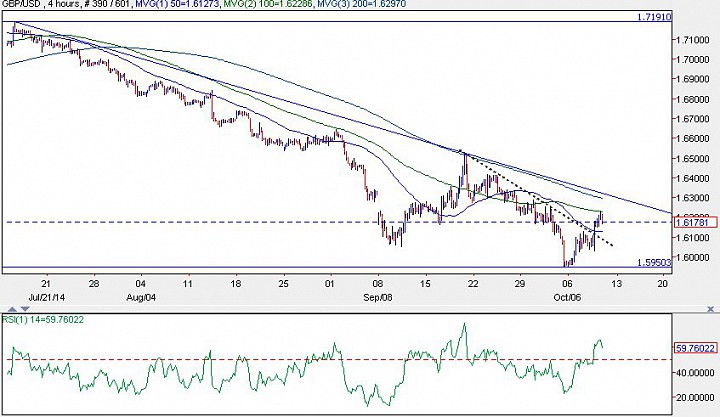 (click to enlarge)
Today (10/9) GBP/USD is testing the 1.62 level. Price is between the 50- and 100-period SMA in the 4H chart. The RSI has cracked 60 showing loss of bearish momentum. The pair is in the crossroads with some more upside even if the prevailing downtrend from 1.7191 is still intact.

A rally to 1.63 would still be part of the downtrend. Note that at 1.63, GBP/USD would be testing a falling trendline from 1.7191, and the 200-period SMA in the 4H chart. We should expect sellers here and have a bearish outlook at least back to 1.61, 1.6050 area if not down to the 1.5950 low on the year.

A break above 1.63 however would likely shelve the recent bearish trend. At that point, we should consider a shift of GBP/USD from bearish to a sideways market in the upcoming weeks.