GoPro (GPRO) Awaiting Breakout from Narrow Range
GoPro (GPRO) entered 2017 in a bearish mode but has stalled after establishing a low at 7.15.

GPRO Daily Chart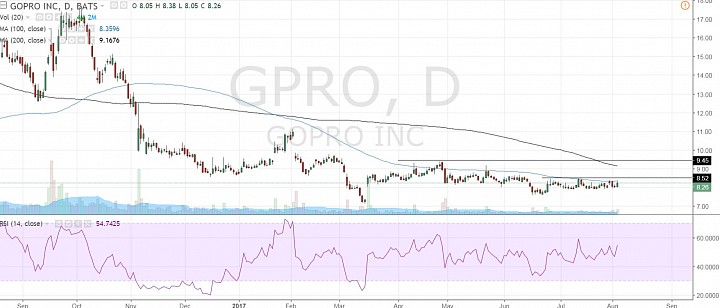 (click to enlarge)

Still Overall Bearish:
- The sign of a bearish trend is simply price making lower highs and lower lows.
- Even though price has been trading more sideways in the past few months, we still see lower highs and lows.
- If price can hold above the 7.15 low, and then push above 9.45, then we would see a higher low and a higher high, which would reflect a shift in trend.
- For now, the trend has simply stalled.
Narrow Range:
- More recently in June and July, price settled in an even smaller range between roughly 7.90 and 8.50.
- A break above 8.50 therefore could lead to price testing and possibly breaking aboe the 9.45 resistance.
- It would still be early to call this a bullish reversal, but this scenario would be a basis for establishing 2017 price action as a price bottom.
- Subsequent ability to hold above 8.00 for example should add to the prospect of a bullish reversal, or at least a major bullish correction towards 13.00-14.00 which is around the middle of 2016's price range.