Cisco (CSCO) - $43 Pivot Under Pressure; Downside to $40-$41
There is a support pivot for the share price of Cisco Systems $CSCO at $43, and we saw the market buy the name at this price during the 10/29 session.
CSCO Daily Chart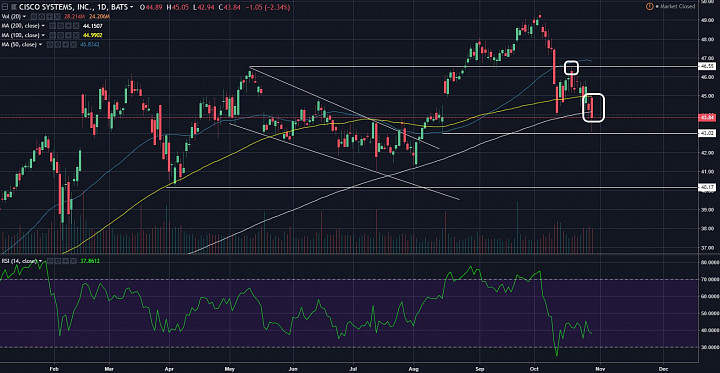 (click to enlarge)
Don't Rely on $43-Support:
- There are a couple of signs that warn us against relying on the $43 support.
- First of all, not even looking at CSCO individually, there is tremendous market risk that is effecting the general equities market.
- Now looking at CSCO, we saw that when price bounced off of the 200-day SMA, it failed to cross back above $46.55, a key support/resistance pivot.
- During the 10/29 session, the market formed a bearish engulfing candle that closed below the 200-day SMA.
- At this point, I think the key resistance pivot has moved down to $45, and the downside has opened up to the $40-$41 area.