EBAY Beats Earnings, but Still Falling and Completing a Double Top
EBAY released its Q1 earnings report after the 4/19 session. The reaction during the 4/20 session was bearish. First let's take a look at the bottom line.

According to Techcrunch, "The company posted an adjusted 49 cents per share, when Wall Street was forecasting 48 cents. EBay reported revenue of $2.2 billion, when analysts were expecting roughly the same at $2.21 billion. This is up 4 percent from last year." (techcrunch.com)

Still, Financial Times reminds us that the "adjusted net income figure represented a 2 per cent fall from the same period last year." (ft.com)

Traders are definitely cautious after the earnings report. EBAY has risen from a 2016 low at 21.52 to a high of 34.74 last week. Let's take a look at the chart.

EBAY Daily Chart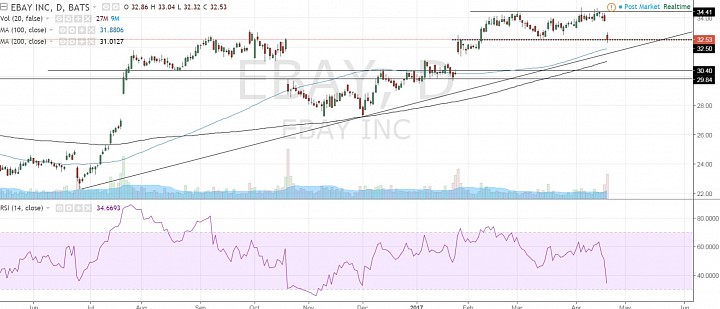 (click to enlarge)

Failure to Extend:
- Even before the earnings report, the market was hesitant about pushing above the 34.40-34.50 area. 
- Indeed after failing to clear this area a second time, EBAY fell sharply on the back of the earnings report.
- It has completed a double top.
Prevailing Uptrend:
- Now, it doesn't look like the earnings report showed anything troubling. 
- I believe this is a case where the bulls in this market is exhausted, and the earnings report did not provide fuel.
- A period of consolidation can be expected, but we should still respect the prevailing uptrend. 
Support:
- First the 32 area could provide support.
- Below that, we can also anticipate support around 30.
- If price falls below 28, then this is likely more then a brief period of consolidation. It could be the start of a much longer period of consolidation and choppy price action, or we could be looking at a deep pullback that would have the 24 handle in sight.
- For now, we should respect the support at least around 30, especially if we see a bullish divergence between price and the RSI. 
- As an example, we saw a bullish divergence in November-December 2016 before price continued the prevailing uptrend.