Stalking the Retracement in New Age Beverages (NBEV)
New Age Beverages $NBEV went through the hype cycle many cannabis-related companies went through in 2018. Price was around $1.50 a share in August and September before the market drove it to almost $10 a share within the month. It's not a surprise that this rally failed to sustain and retreated sharply instead.
NBEV Daily Chart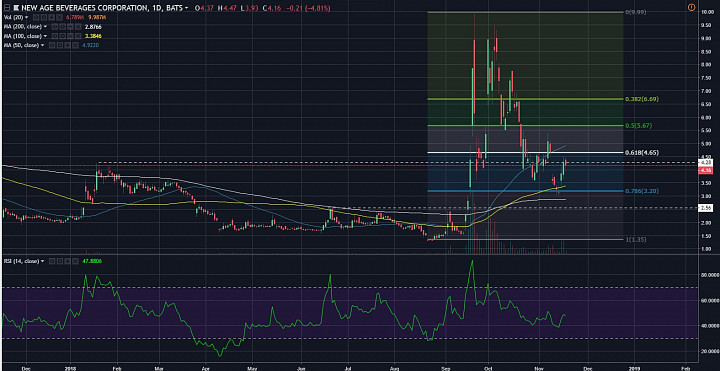 (click to enlarge)
Deep Retracement:
- NBEV is now looking at a deep retracement around 78.6%.
- This pullback brought price back to the cluster of 200-, 100-, and 50-day simple moving averages (SMAs), and to the middle of 2018 price action before the September pop.
- In other words, price has returned to "sensible" levels relative to how the market was before the September hype - September was when a lot of the "fomo" price action entered the market ahead of Canada's legalization of marijuana ahead in October.
- After that date passed, the hype died down - a classic buy the rumor sell the news price action.
- Now that this pump and dump price action is over, we can judge whether NBEV will still be bullish, or settle into the bearish-neutral mode it was in since mid-2017.
$3.00 and $2.50 Support:
- I think if NBEV holds above $3.00, the bullish outlook would be confirmed.
- But even lower, if price can hold above $2.50, we can still be bullish on NBEV.
- The upside might be limited to $4-$4.25 for a while. Usually, it takes a while after a pump and dump for the market to re-establish the uptrend.
- In my opinion, we are coming close to a low for the current dip, but price will be sticky around $3-$4 area for a while before shifting back into the uptrend.