Boston Beer Company (SAM) - Assessing a Buy Near the Support/Resistance Pivot Around $200
Boston Beer Company $SAM had a strong year in 2018, but started to consolidate by mid-year, and fell in the 4th Quarter along with the rest of the market. Let's take a look at the weekly chart.
SAM Weekly Chart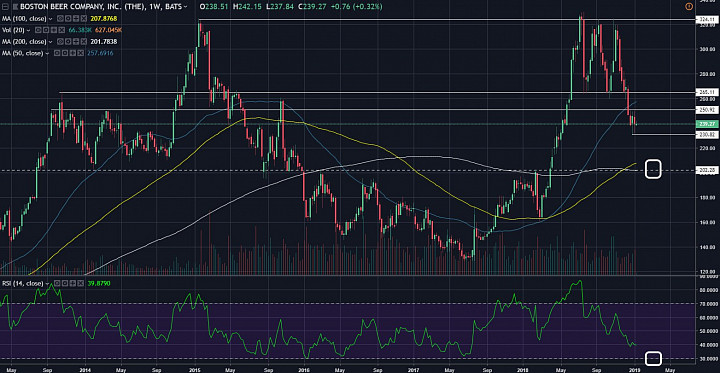 (click to enlarge)
Next Key Support:
- Price has come down considerably since the high around $330 in July 2018.
- It has broken below some key support/resistance levels ($260-$265) that the market respected in 2018.
- SAM has been consolidating between $230 and $250 for the past few weeks.
- I am waiting for it to come down more towards $200.
- Just above $200, we have a critical support/resistance pivot.
- $200 is also a psychological level that should attract more attention than the current $230 short-term support.
- Also note that the 200-week simple moving average (SMA) is right above $200.
- Finally, if price come down to $200, the RSI would likely be around 30 and would reflect oversold condition.
- If price indeed breaks below $230, I will be getting dry powder ready with an order to buy around $205.
- I believe that there will be upside potential to $260 in 2019.
- I would likely stop out around $180, which makes this a 55:25, or slightly between than 2:1 reward to risk trade set up.
- If you believe there is a 50% chance that price will come back to $260 instead of or before falling to $180, then a 2:1 reward to risk profile is great.