AUD/CAD - Fractal Breakout?
I am bullish on AUD/CAD, mainly based on the weekly chart.

AUD/CAD Weekly Chart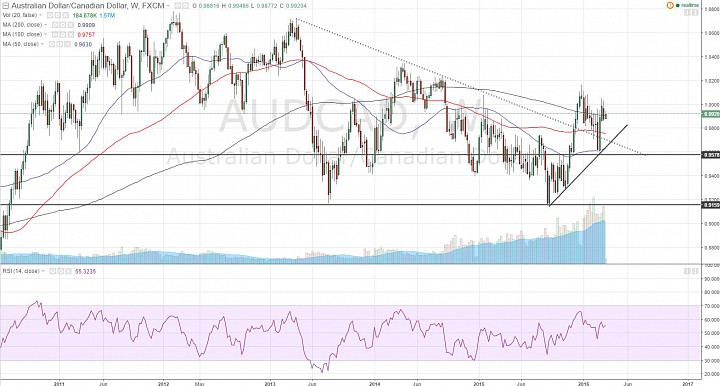 (click to enlarge)
First of all, before the period of consolidation that started in 2012, AUD/CAD had been bullish. Now, during this multi-year consolidation, there was a bearish move to 0.9160. This area essentially held again in September of 2015 and price has since rallied. 

- Price has broken above the 200-, 100-, and 50-week simple moving averages.
- It has broken above a falling trendline. 
- After the breakout, there was a pullback and this dip respected the 0.9580 area, which was the top of a price bottom.
- Price also respected the 50-week SMA, essentially giving a bullish "slingshot" signal. 
- A rising trendline held

Now, let's drop to the  Daily Chart:

AUD/CAD Daily Chart 3/21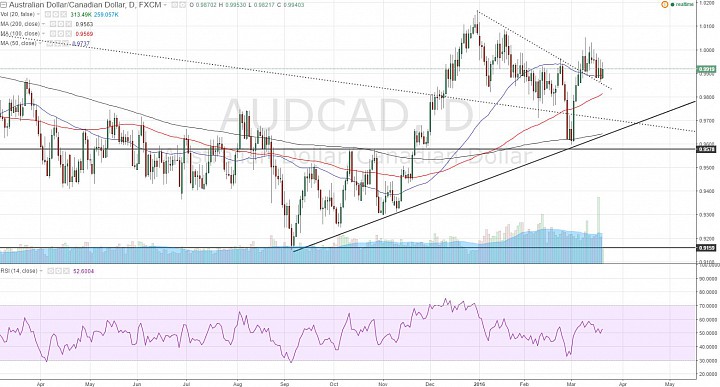 (click to enlarge)

The daily chart also shows a bullish breakout and a pullback. Now, this pullback has downside risk towards 0.98, but if price can hold above 0.98, we essentially have another breakout and confirmation in the daily chart. 

Bullish in the medium-term: I know, the consolidation in the weekly chart vs. the daily chart don't have the same structure, but the dynamics is the same - we are seeing a bullish breakout and confirmation in both the long-term and medium-term chart. Therefore, while there is still some downside risk in the short-term, the medium-term outlook for AUD/CAD is likely BULLISH.