USD/JPY wants to stay above 100
Bearish After Topping: The USD/JPY has been bearish for since mid-2015, for almost a year now. The daily chart shows the rounded top that developed throughout 2015.

USD/JPY Daily Chart 7/11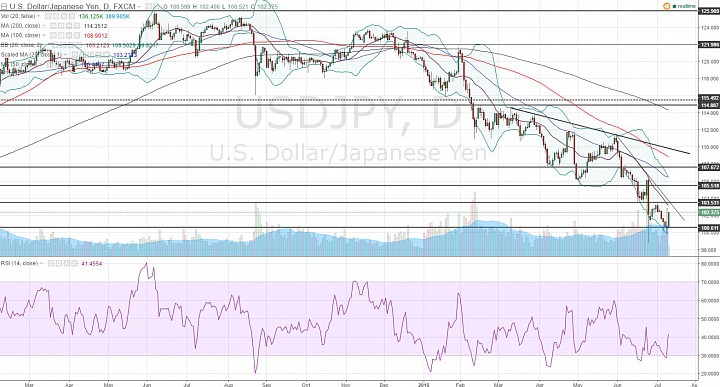 (click to enlarge)

Brexit:
The decline in USD/JPY was accelerated after the Brexit results, which brought a wave of risk-aversion.
Risk aversion strengthens risk-haven currencies.
Both USD and JPY (and CH) are relative safe-havens to other major currencies, but more so for the JPY.
Therefore, it was no surprise to see USD/JPY plunge on the weight of risk aversion.

100 is a key level:
The 100 level is a psychological number.
On top of that it was a previous support/resistance pivot in 2013-2014, as we can see in the weekly chart.
We can also see that it is around the 50% Fibonacci retracement of the bull run from 2012 to 2015, 

103.50 could provide pullback:
The medium-term mode of USD/JPY is still bearish.
But in the short-term, there is upside to the 103.50 level, a recent support/resistance pivot seen in the daily chart.
We can also see the market pivot around this level back in 2013 and 2014.
Look for a pullback when price approaches 103.50. This might provide a buy-on-a-dip scenario. 
Above 103.50, the next key pivot to monitor will be around 105.50. You can see the importance of 105.50 on the weekly chart.

USD/JPY Weekly Chart 7/11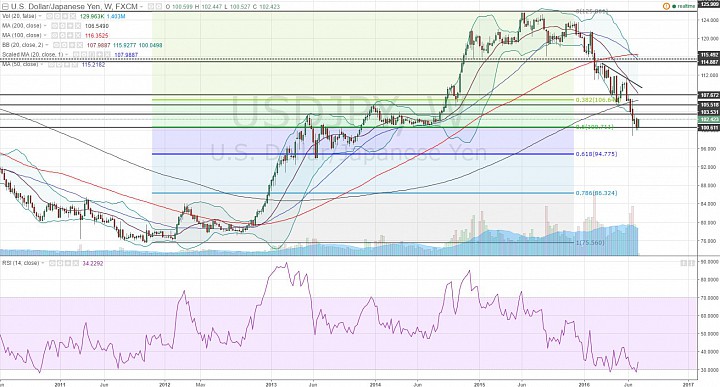 (click to enlarge)
Central bank policies suggest upside for USD/JPY
From a fundamental standpoint, I do believe USD/JPY has more upside potential than downside. 
The Federal Open Market Committee (FOMC) is relatively more hawkish than the Bank of Japan (BoJ). 
The central bank divergence should give USD/JPY a boost unless the Fed starts to back away from any further rate hikes in 2016.