JD.com (JD) Will Look Bullish if it Can Hold Above $37
JD.com has been in consolidation mode since mid-2017. The daily chart shows an expanding consolidation. If we just look at price action, it does look like JD could be topping especially when the recent rally in June found resistance around $45 instead of challenging previous highs.
On the other hand, if price can hold above $37, and the daily RSI can hold above 40, we could still be building that bull run towards the highs around $49-$51.
JD Daily Chart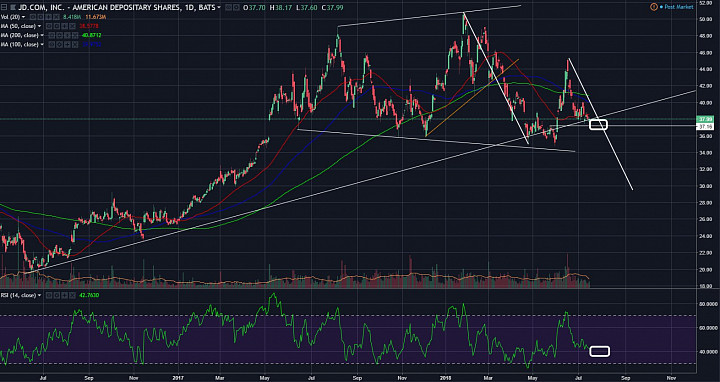 (click to enlarge)
Below $37:
- If price falls below $37 and the RSI below 40, we are likely in a bearish swing that has downside towards $30. This target is based on projection of the previous down swing.

Above $40:
- If price holds above $37 and pushes above $40, the market is more likely to continue June's bullish attempt.
- If price can get up to $45, it will probably break above and push back towards $50.