Key Support for AUD/NZD (200-day SMA and a Common Pivot)
AUD/NZD has been consolidating since Aug/Sep 2017. The daily chart shows that the overall market has some bullish bias, but has been very choppy.

AUD/NZD Daily Chart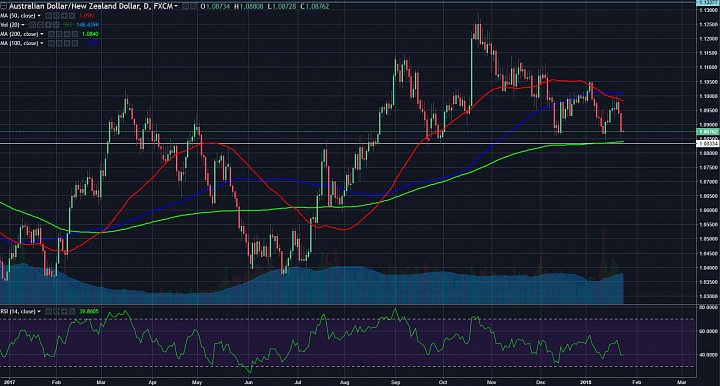 (click to enlarge)
Support Factors:
- The daily chart shows that there is a common support/resistance pivot around 1.0830-1.0850 area.
- The 200-day simple moving average (SMA) also resides in that area at the moment.
- If the rally from June to November in 2017 is going to extend, we should see price hold above 1.0830.
- A break below 1.08 would reflect a bearish intent, which would keep AUD/NZD in a choppy consolidation mode without the bullish bias.
- A hold above 1.0830 on the other hand, would be a strong indication that AUD/NZD is in a bullish trend, which would put at least the 1.1330-1.1420 resistance area in sight (refer to the weekly chart).
Key Resistance:
- The weekly chart shows a cluster of moving averages around 1.08. Indeed if the market is turning bullish, price should hold above these moving averages.
- Also, note that the 1.1330-1.1420 resistance area noted above is a critical resistance. If price holds under, it is still in a multi-year consolidation. But if it breaks above, we might see AUD/NZD enter a bullish trend in 2018 and possible into 2019.
AUD/NZD Weekly Chart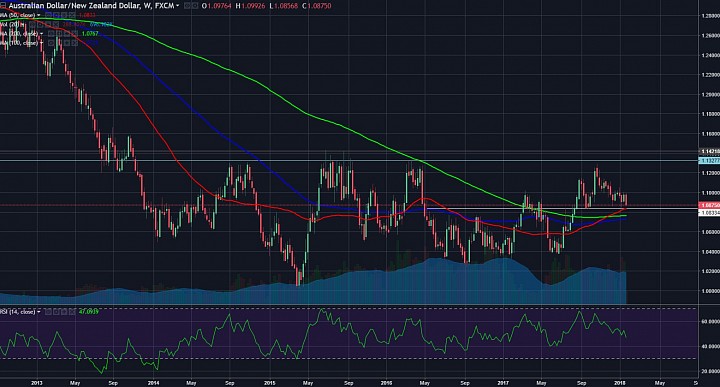 (click to enlarge)