GBP/USD has Fundamental and Technical Signals for Bullish Continuation
The GBP/USD was in a bearish correction from the 1.5930 high on the year to 1.5330. Then, it rallied sharply and signaled bullish continuation. However, bulls were stopped in their track at 1.5675 and another period of consolidation followed.

From a technical and fundamental perspective, price action last week suggested further bearish correction in GBP/USD. There was topping action below 1.5675, and the FOMC was still slightly more hawkish than the BoE. 

However, after today's GDP data, it appears like the BoE's forward looking stance is just as hawkish as the FOMC's if not more. UK's Q2 GDP grew at the rate of 0.7% compared to the previous quarter. This print puts UK ahead of the G-7 pack in terms of growth, as we can see by the following graphic courtesy of Bloomberg.com.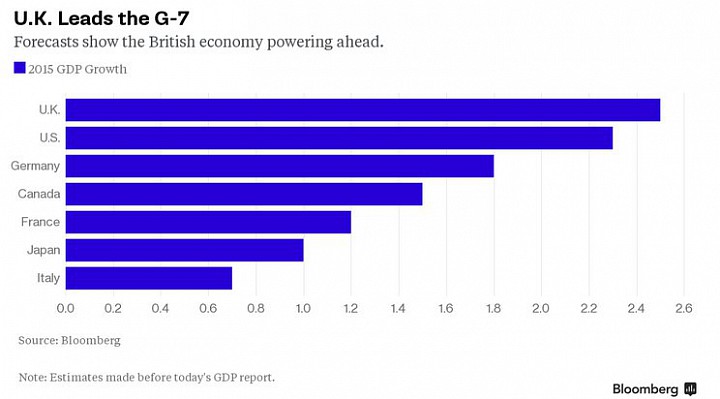 From technical perspective, GBP/USD's reaction today points to a bullish continuation attempt. 

GBP/USD 4H Chart 7/28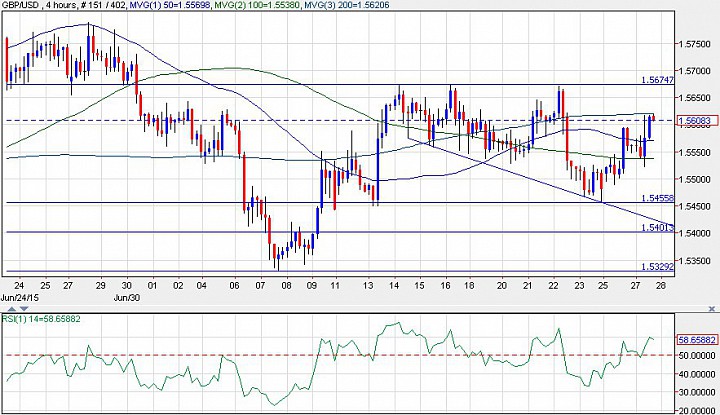 (click to enlarge)

The 4H GBP/USD chart shows that after rebounding from 1.5455, price action was already bullish just ahead of the UK GDP release. Afterwards, we got a bullish engulfing candle that looks poised to lead cable to 1.5675. Above that we should at least anticipate an attempt towards 1.59 if not the 1.5930 high no the year  

To the downside, we should start anticipating support around the 1.5550 area. If price does not stay above this level however, we should be more conservative about the bullish outlook, or stay on the sidelines to watch for more clues.