Kandi Technologies Group Inc. (KNDI) Pulls Back to Expected Support Area
Chinese electric vehicle manufacturer, Kandi Technologies $KNDI surged in late February after US approved imports of electric cars from China.
Kandi (KNDI) Surges on Approval of US Import
At the time, price jumped from around $6.00 to about $9.25. We noted the prudence of waiting for a pullback. While there is a chance that KDNI is turning bullish, there is still a chance that it will consolidate further before risk appetite comes back in. After all, the price "trend" since 2016 can be described as bearish-sideways, because it shifted from a bearish market going into 2016 into a sideways market by 2017.

KNDI Weekly Chart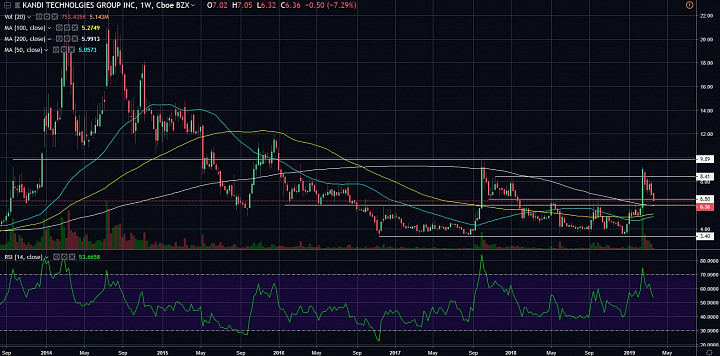 (click to enlarge)
Price Bottom?
- As we can see on the weekly chart, price has flattened after a bearish trend.
- Is this multi-year consolidation a price bottom? Or is it simply consolidation before further downside?
- There are some subtle clues that price may be bottoming.
1) Prce recently broke above the 200-week simple moving average (SMA). IF it can hold above it for the most part (and essentially stay above $6.00, then we stronger evidence for the bull case.
2) The recent rally was accompanied with strong volume.
3) The RSI popped up above 70 in late 2017 and has since held above 40. This reflects a market building bullish momentum.
- I think the last line of defense for the immediate bull case is a break below $5.00.
- That would open up the $3.40 or at least $4.00 area, and would suggest more consolidation and possibly even some downside below $3.40.
KNDI Daily Chart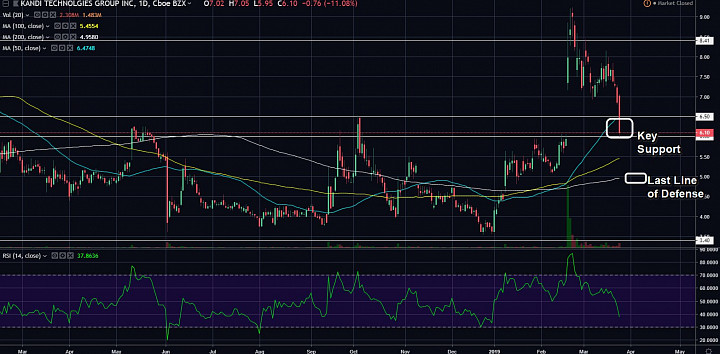 (click to enlarge)