Tesla (TSLA) - Another Test of $250 on its Way
Tesla $TSLA was in a sideways consolidation mode in much of 2017, and has been in more of a bearish correction mode in 2018. Price action suggests this bearish correction mode is likely to continue in 2018.
TSLA Daily Chart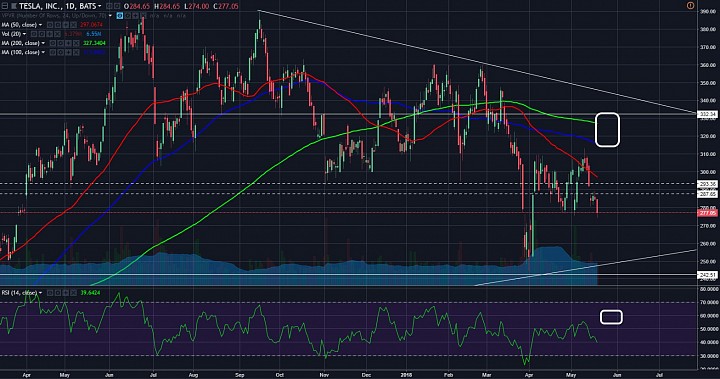 (click to enlarge)
Bears in Charge:
- The daily chart shows a market that is in bearish correction mode.
- Price came down to the $250 level at the end of March, but has since rebounded.
- However, we saw the rally get rejected at $310 twice.
- After the second resistance at $310, price is falling sharply and cracking the support pivot around $277.
- We might see a brief rebound, but if price fails to clear above $290, we should have further downside back towards the $250 area.
- If price instead surges above $300, we need to reassess, and consider the possibility of a push towards the $330 area.
- Otherwise, the current price action suggests we should see $250 again.
Key Support Around $240:
- If price can hold above $240, the overall trend would still be neutral-bullish, and the focus would go back to the $330 area.
- A break below however opens up a bearish trend that would open up the $177-$178 support pivot.

TSLA Weekly Chart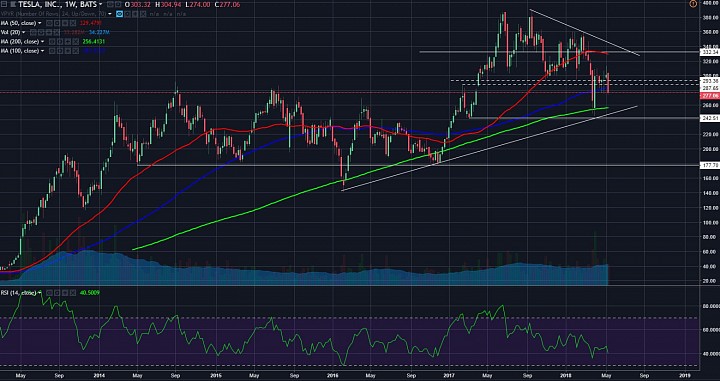 (click to enlarge)