Adobe Systems (ADBE) in Bullish Breakout After the Q2 Earnings Beat
After a bit of consolidation in May, Adobe Systems $ADBE is back to its bullish ways. The 6/18 after market earnings report helped it push through a recent consolidation resistance with at least $300 in sight.
Here's a summary of the Q2 earnings report from zacks.com:
Adobe Systems (ADBE) came out with quarterly earnings of $1.83 per share, beating the Zacks Consensus Estimate of $1.78 per share. This compares to earnings of $1.66 per share a year ago. These figures are adjusted for non-recurring items.
This quarterly report represents an earnings surprise of 2.81%. A quarter ago, it was expected that this software maker would post earnings of $1.61 per share when it actually produced earnings of $1.71, delivering a surprise of 6.21%.
Over the last four quarters, the company has surpassed consensus EPS estimates three times.
Adobe, which belongs to the Zacks Computer - Software industry, posted revenues of $2.74 billion for the quarter ended May 2019, surpassing the Zacks Consensus Estimate by 1.64%. This compares to year-ago revenues of $2.20 billion. The company has topped consensus revenue estimates four times over the last four quarters.
The sustainability of the stock's immediate price movement based on the recently-released numbers and future earnings expectations will mostly depend on management's commentary on the earnings call.
Adobe shares have added about 21.8% since the beginning of the year versus the S&P 500's gain of 15.3%.
...
ADBE Daily Chart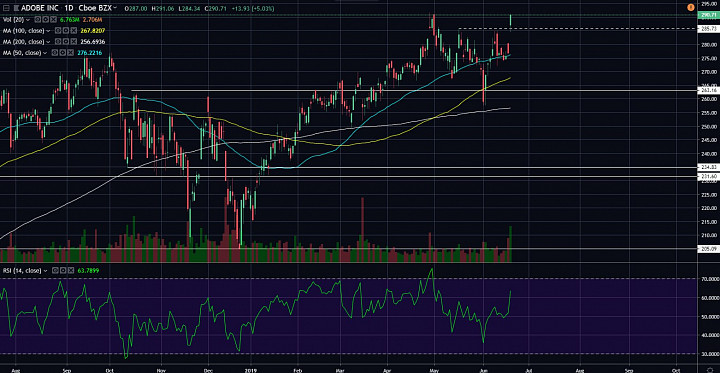 (click to enlarge)
Bullish After Consolidation:
- We can see that price retreated in May from about $290 down to about $260.
- In hindsight we can see that this was an ABC correction.
- Also, price held above the 200-day simple moving average (SMA), while the RSI remained above 40 for the most part.
- Thus the market confirmed the bullish trend after this period of consolidation/correction.
Bullish Breakout:
- In June, we saw price come up to $285.70 and respect this previous resistance pivot. This became a key consolidation resistance.
- However, we can see that price broke above this resistance during the 6/19 session (following the earnings report).
- We also see relatively strong volume.
- This suggests we should anticipate a bullish swing towards at least $300, which might be a sticky price level because it is a psychological whole number.
- Lastly, we should start looking at this $280-$285 area as support if ADBE is going to remain in a bullish trend.