Tesla (TSLA) - Bearish Reaction at $300 Suggests Pressure on $240
Recently, we reiterated an obvious observation that Tesla $TSLA is in consolidation mode, ranging between roughly $240 and $390. However, the price action throughout this consolidation looks to be adding pressure towards the $240 support area.
TSLA Daily Chart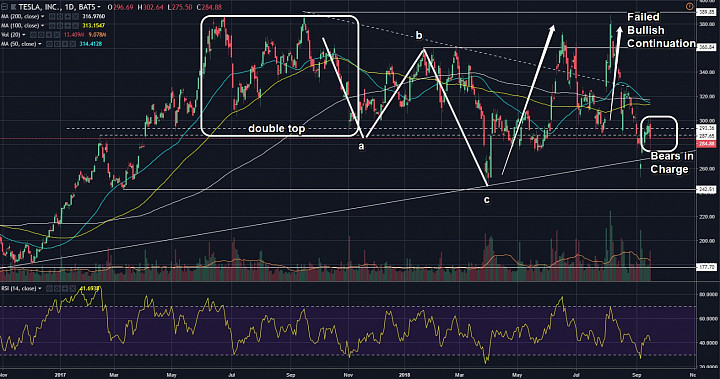 (click to enlarge)
Breaking Down Price Action:
- Price of TSLA first found resistance around $390 in 2017. We can see that there was a double top, which suggested a period of consolidation or even bearish correction ahead.
- This materialized in the form of an abc correction. At this point the market has completed a bearish correction but maintained a bullish trend in the long-term as it held above $240 and a rising trendline.
- However, the subsequent bullish attempt failed. The last push towards the $390 resistance was after Elon Musk's infamous "Take Tesla Private" tweet.
- After some initial excitement, the market for TSLA turned sour and price started to slide sharply.
- Price still held above $240-$250 area, so the market can still be considered range-bound.
- However, as price rallied to $300, we saw a strong bearish engulfing candle during the 9/18 session.
- Along with the previous failed bullish continuation attempt, this rejection at $300 puts the pressure on the $240-$250 area again.
- Based on this price action and the relatively strong volume of late during this unwinding, I would not rely on $240-$250 area for support this time outside of a very short-term bounce.