USD/CHF Pulling Back Up to Key Resistance at 1.00; EUR/CHF Has Resistance Around 1.11
In June, $USDCHF was in a bearish breakout. After the breakout price pulled back and respected the 1.00 area, which lead to a bearish extension to almost 0.97 before the most current pullback.
USD/CHF Daily Chart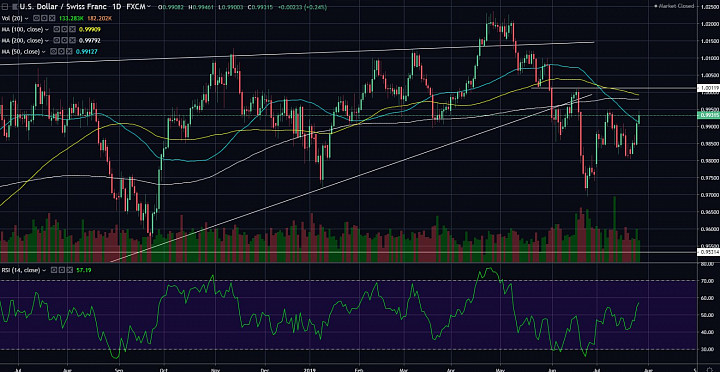 (click to enlarge)
Pullback:
- We are in another bullish wave in the pullback since June.
- If the current rally extends, it will be approaching a key resistance area around 1.00.
- We also noted that this was a previous support/resistance pivot area.
- The moving averages are right under this area.
- A bearish market should respect this area as resistance.
- The RSI should also hold under 60 in the bearish scenario.

$EURCHF Daily Chart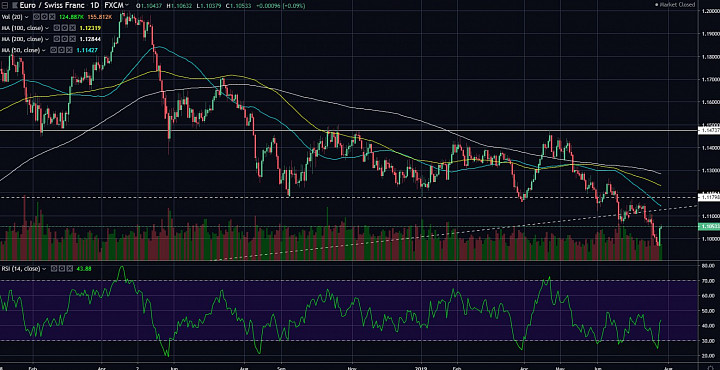 (click to enlarge)

Swissie Strength:
- If we want to play Swiss Franc strength, its probably better to play it against the Euro, which has been on a bearish trend since May 2018.
- Price also broke below a key support around 1.1180 in June as well as a rising trendline at the start of July.
- The EUR/CHF is also pulling back.
- The 1.11 area will be the first key resitsance, but 1.12 would be a more critical resistance for the bearish outlook.
- In other words, a break above 1.12 would signal a potential bullish reversal, though it would be a very earlier and possibly premature signal. It would simply mean that bulls are percolating in this market, but we will probably need more evidence like strong bullish volume.
- If price holds under 1.11, it would be a strong sign that there is still more downside. The next key support might be in the 1.08 area, a key support/resistance pivot in 2017 as we can see on the weekly chart below.
EUR/CHF Weekly Chart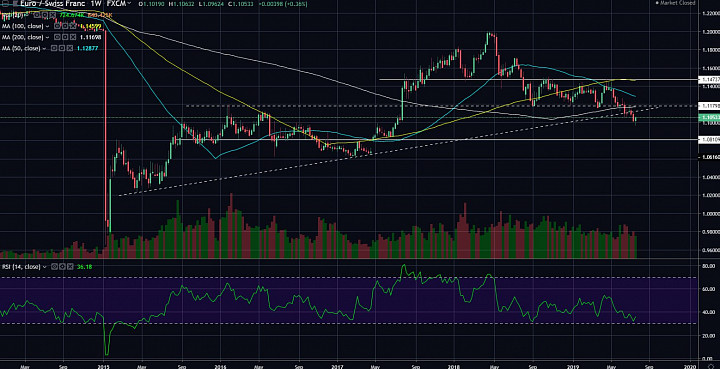 (click to enlarge)