USD/JPY uncoils above 100
USD/JPY has been bearish but found itself in the second half of last week. As we start a new week, price action has uncoiled from this triangle to the upside, holding above 100. 

USD/JPY 1H Chart 8/22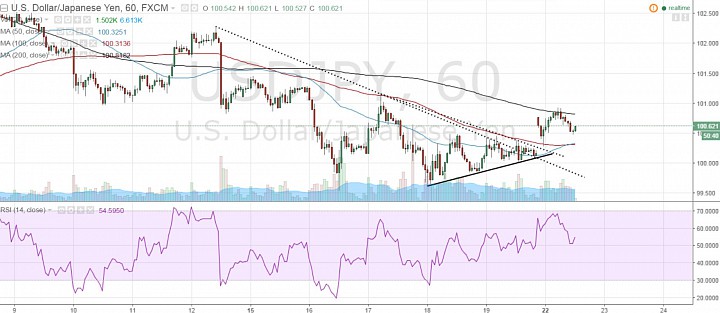 (click to enlarge)

Bottoming attempt:
- The 1H chart shows USD/JPY in a bottoming attempt as it breaks above the triangle.
- Price also pushed above the 50- and 100-hour simple moving average (SMA). However, it is still below the 200-hour SMA, so at best we are talking about losing the bearish bias - not adding any bullish bias yet. 
- 101.15 is last week's resistance pivot, and is going to be this week's key resistance. A hold below 101.15 continues to put pressure on 100. A break above 101.15 says price has upside risk.
- Let's take a look at the daily chart to assess this potential upside risk. 

USD/JPY Daily Chart 8/22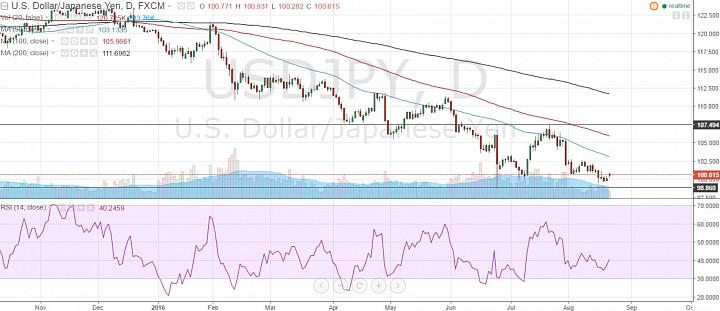 (click to enlarge)

Bearish to neutral:
- The first thing the daily chart says is that USD/JPY is still bearish in the medium-term. It has been declining since end of last year. 
- After price cracked 99.00 in June (after Brexit), USD/JPY was able to return to the levels before Brexit. 
- This suggests that the post-Brexit reaction could be an "exhaustion" swing. 
- A period of consolidation could be at hand.
- Price is starting the week anchored above 100, which would be in-line with the consolidation scenario. Within this consolidation (sideways) scenario, there is some short-term bullish outlook.

Bullish targets within consolidation:
- As noted the bullish outlook is within the medium-term consolidation scenario.
- This means the most aggressive bullish outlook should be limited to the 107-107.50 highs. 
- A more viable targets could be 1) a resistance pivot around 102.50 and 2) the middle of the range, which is around 103-103.25.