EUR/GBP - Bulls Taking Back Control
EUR/GBP is bullish. The daily chart shows a market that was consolidating since September 2016. However, we saw that EUR/GBP broke above the consolidation structure either in May or June. But alas, price was unable to push above the 2016 high around 0.93. As we can see, price retreated sharply after tagging 0.93, reflecting that bulls were NOT committed to the uptrend.

EUR/GBP Daily Chart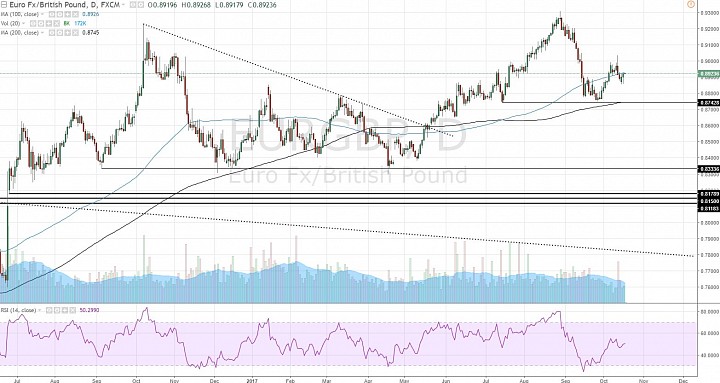 (click to enlarge)
Bulls in Control:
- Now, after the sharp retreat from 0.93 to about 0.8745, EUR/GBP found support.
- This keeps EUR/GBP above the 200-day simple moving average (SMA), which reflects a bullish bias in the medium-term.
- However, the daily RSI is still under 60, which reflects existence of bearish momentum.
- Will price push higher and shift the momentum back up?
Short-term Momentum:
- We need to see if short-term bullish momentum is building up.
- The 4H chart shows that the 4H RSI pushed above 60 and even above 70.
- It has since held above 40 for the most part, so we can say that bullish momentum is indeed building up in the short-term.
- The fact that price held above 0.8850 this week is also a sign that in the short-term, EUR/GBP has built a price bottom around 0.80.

It might be a little early to say, but the daily and 4H charts are giving us clues about bulls taking back control of the market. It at least shows that bears are weak when EUR/GBP is around 0.80.