Gold Setting up 2 Flag Patterns at Once
Gold is starting the week at a key juncture for the short-term outlook. It has been consolidating in October, and we can say that it is bullish this month, rallying from about 1183 to almost 1250.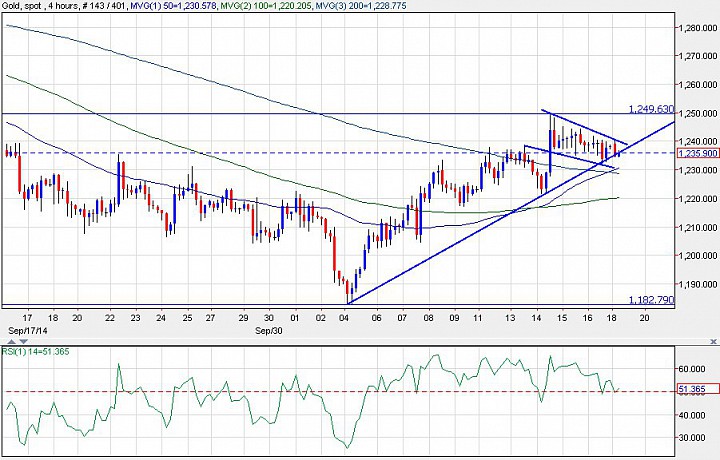 (gold xau/usd 4h chart 10/20)
The 4H chart shows that this rally has broken above the 200-, 100-, and 50-period SMAs. The RSI has broken above 60, which shows loss of the prevailing bearish momentum, though it has not tagged 70, which shows lack of bullish momentum as well. Of course, we can also observe higher highs and higher lows.

Other than lack of momentum, gold is bullish, and starts the week testing one of those bullish factors - a rising trendline. A break below 1230 would clear this trendline and bring price back into the cluster of SMAs, which would put gold back at the crossroad. Then a break below 1220 should revive the bearish outlook.

However, if price breaks above 1240, it would break above a flag pattern and signal bullish continuation in the short-term. 

The bullish target would first be 1250. The next area to monitor for resistance will be around the 1270-1280 area. In the daily chart below, we can see that this area represents a common low that goes back to April, and was a resistance area in late August. Price will also likely meet a falling trendline from the 1345.28 July-high.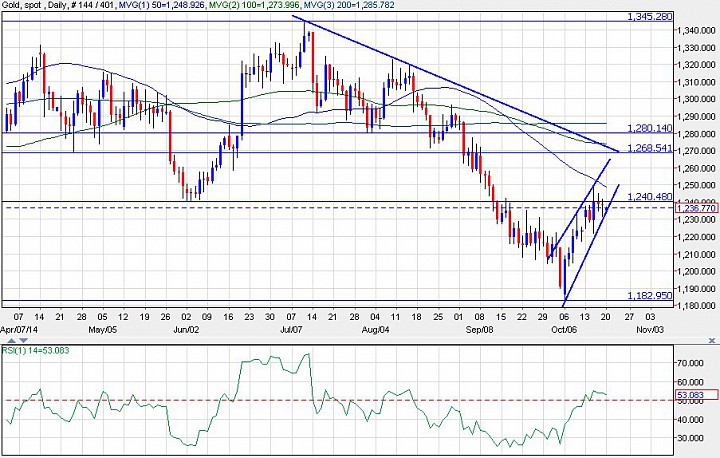 (gold xau/usd daily chart 10/20)

Note that if price breaks below 1230, it will break below a flag pattern in the daily chart. In the 4H chart, this puts price back into the cluster of SMAs. However a break below 1220 will be needed to make the first lower low of significance, and clear below the SMAs. 

This would be a strong bearish breakout from the flag pattern, exposing the 1183 low.