Kohl's (KSS) in a Head and Shoulder Breakout after Q1 Earnings Miss
Kohl's $KSS reported very disappointing Q1 earnings early Tuesday (5/21), causing its share price to plunge during the session. IT remains pressured during the 5/22 session and might have further downside before catching support. Let's take a look at a summary of this report from Nasdaq.com:
...
The Menomonee Falls, Wi.-based department retail store chain announced first-quarter adjusted earnings of 61 cents per share, which was below the 68 cents per share that Wall Street called for. The company's revenue did come in ahead of what Wall Street projected at $4.09 billion, but still fell 2.9% year-over-year.
Kohl's added that its same-store sales were down 3.4% when compared to its first three months of 2018, which was wider than the projected decline of 0.2%. "The year has started off slower than we'd like," said CEO Michelle Gass. "We are actively addressing the opportunities that impacted our first quarter sales, and we have strong initiatives that will enhance our sales performance in the second half."
The business also lowered its guidance for its fiscal 2019, as it now forecasts adjusted earnings at around $5.15 to $5.45 per diluted share, below its previous outlook that was in the range of $5.80 to $6.15 per diluted share.
...
KSS Daily Chart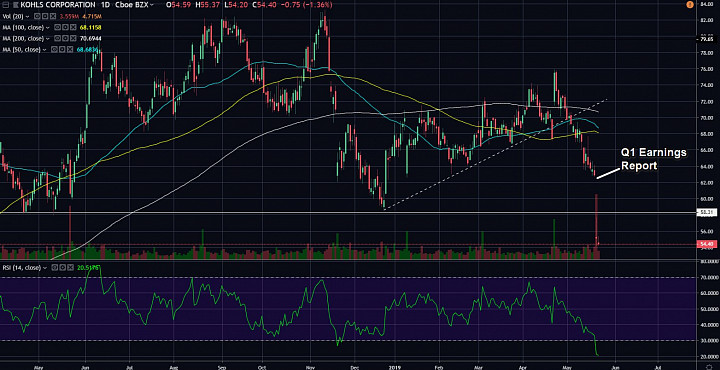 (click to enlarge)
Broken Support:
- On the daily chart, we can see that price action was already bearish heading into the earnings report.
- After a few months of choppy bullish recovery, price was falling in late April into May.
- This is textbook choppy correction vs. sharp trend scenario.
- The earnings report accelerated this drop and price broke below a key support in the $58-$60 area.
- On the weekly chart, we can see that this essentially completed a head and shoulders pattern.
Long-term Range:
- The point is, price broke below a key support and could be heading lower.
- In the short-term, maybe we get some reaction around the 200-week simple moving average (SMA).
- However, I think there could be downside towards $40 before KSS finds significant support.
- When we look at the weekly chart, we can see that price action has been essentially sideways since 2002 when the prevailing bull market stopped under $79.
- Since then, we can see that the $40-$44 area was a common support area although there were some instances of price dipping as low as the $25.25 area in late 2008, and around $35 in 2016.
My Strategy:
- I am staying away from this name.
- But if I had some extra dry powder for a very short-term play, I would look for a buy around $40.50 for short-term upside to $45 and a stop below $40.


KSS Weekly Chart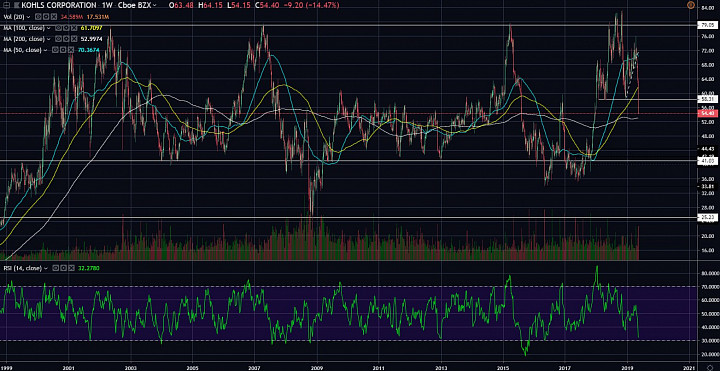 (click to enlarge)