Johnson & Johnson (JNJ) - Looks Defensive in this Environment
Thursday (10/18) was another day of equities market bleed-out. In this environment, we might want to rotate into some defensive stocks that pay dividend, is established and less volatile, and is NOT already in a downtrend.
I discussed MCD and K in this consideration, and I now want to put Johnson & Johnson $JNJ in the mix.
JNJ Daily Chart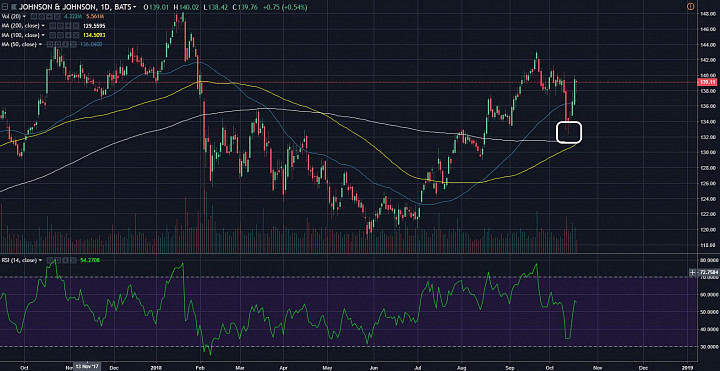 (click to enlarge)
Bullish Continuation?
- JNJ was in bearish correction mode in the first half of 2018.
- But we can see that price started to percolate in June, and broke out in July.
- JNJ is possibly in a bullish continuation mode.
- Yes, it was dragged down recently, but this is expected as general market sentiment has been negative in October.
- Still, JNJ held above the 200- and 100-day simple moving averages (SMAs).
- The RSI dipped below 40, but was able to bounce right back up. This means bullish momentum was tested, but if we consider the fact that the dip was dragged lower because of general market sentiment, we can still say that JNJ has maintained its own bullish momentum.
- Finally, the V-shape price action since coming down to almost $132 suggests bulls are still in control here.
- If the market continues to slide, JNJ would likely also be kept in a neutral, maybe even slightly bearish mode. But I think if the general market is neutral to bullish, JNJ has upside to the $148 high on the year.
Bearish Scenario:
- At this point, a slide below $131 would force me to reassess and expect further correction possibly back to the low on the year around $120 a share.
JNJ Weekly Chart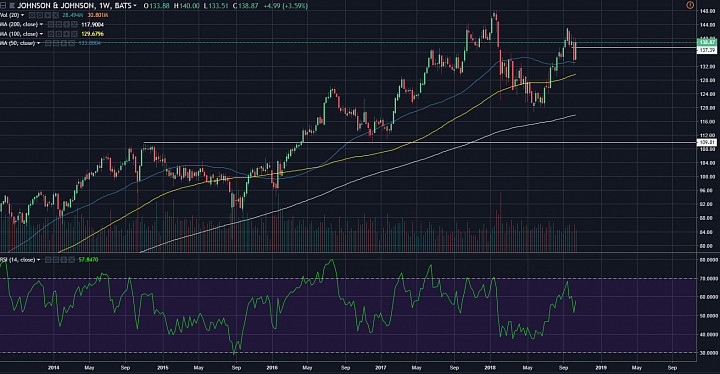 (click to enlarge)