TD Ameritrade (AMTD) Pulls Up from $42.15 But Has Key Resistance in the $47-$48 Area
TD Ameritrade $AMTD came down to a low on the year around $42.15 in late August before rebounding in early September. However, we should consider strong resistance in the $47-$48 area especially after the market made lower lows on the year in August.
AMTD Daily Chart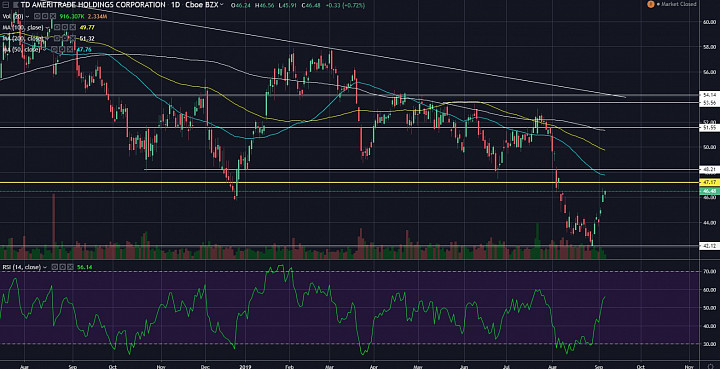 (click to enlarge)

Bearish Breakout and Pullback:
- As we can see on the daily chart, the market had been in a bearish-sideways market in 2019.
- For the most part it would able to hold above $47-$48 area as support.
- After, it was unable to buck the 2018 bearish trend and the support area around $47 eventually broke down in August.
- The break in August is thus a sign of bearish continuation.
- The current pullback is thus a test of this bearish scenario.
- If price does indeed find resistance in the $47-$48 area, it would be a very apparent bearish scenario.
- Furthermore, if the RSI on the daily chart stays below 60, it would reflect maintenance of the bearish momentum since late March.
Entering Previous Range:
- On the weekly chart, we can see that price entered a first-half 2017 price range.
- I would not be surprised if price starts to consolidate in this range between roughly $36.50 and $48.50.
- Within this context, I would expect further downside in the short to medium-term towards the $36.50-$37 area.
- Maybe we will see support around $40 instead of down to $36.50-$37.
- We mentioned $47-$48 area as resistance in the bearish scenario. But if the market overreacts to the current rebound and thus amplifies it, a push to $50 is possible within this consolidation/bearish correction scenario. I would expect $50 to be the most aggressive bullish target within this scenario.
AMTD Weekly Chart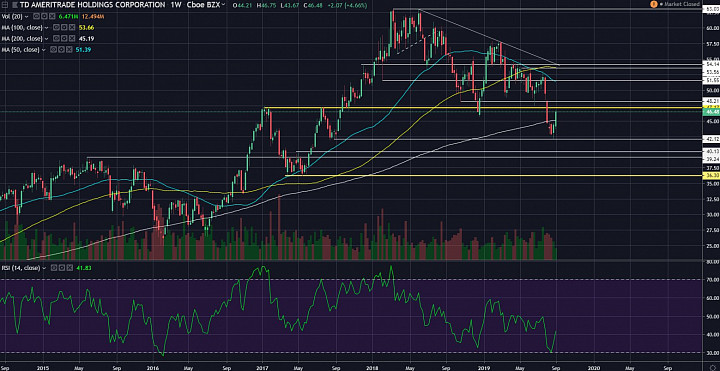 (click to enlarge)