US: Strong Consumer Confidence and Higher Housing Price Should Help Case for Rate Hikes
During the 3/28 session, the Conference Board released the latest Consumer Confidence report for March. 

The 125.6 reading was the highest since 2000, and estimates of around 113.9.


(courtesy of forexfactory.com)

According to the Conference Board report on 3/28/2017:
"Consumers' assessment of current business and labor market conditions improved considerably. Consumers also expressed much greater optimism regarding the short-term outlook for business, jobs and personal income prospects. Thus, consumers feel current economic conditions have improved over the recent period, and their renewed optimism suggests the possibility of some upside to the prospects for economic growth in the coming months." 
The positive report should further build the case for the Fed to raise rates. This should in turn fuel the US Dollar. Indeed, the market bought the USD against the JPY during the 3/28 session after the consumer confidence report.

There was the S&P CoreLogic Case-Shiller report on housing prices based on 20 metropolitan areas. In January, price rose 5.7% compared to January 2016. Rising prices in general is also adds to the probability of a rate hike. At the moment, the market has priced in 2 more rate hikes. But strong economic data could get the market betting ahead for 3 rate hikes. The market would show this expectation by buying up the US Dollar.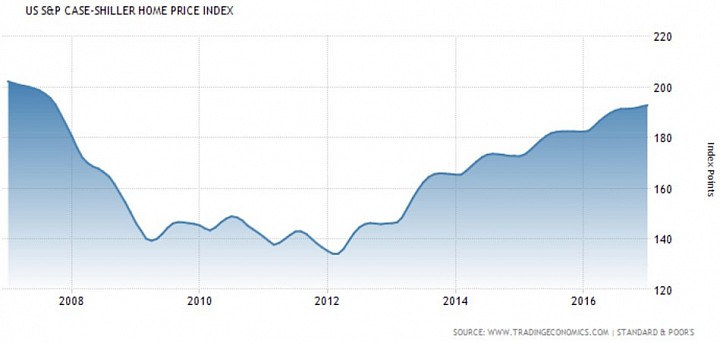 (courtesy of tradingeconomics.com)