Guggenheim Solar ETC (TAN) is Approaching Historic Support
Solar had it rough the last couple of years. The Guggenheim Solar ETF (TAN) for example from from heights around 50 to about 17 by the start of 2017.

TAN weekly chart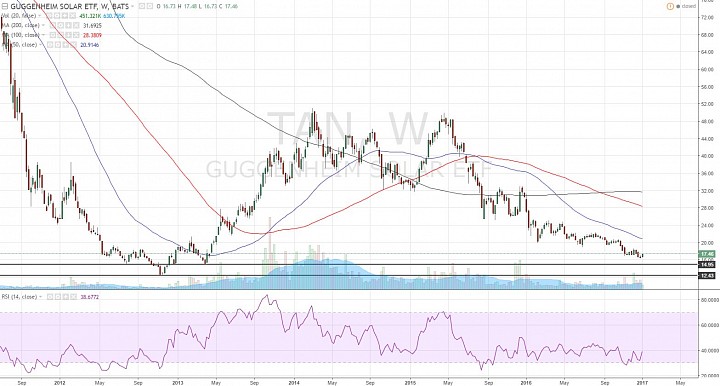 (click to enlarge)

Sliding to Historic Lows:
- As we can see in the weekly chart, the historic low is around 12.45. 
- Note the inverted head and shoulders pattern from 2012-2013. 
- The 12.45 level is the head and 14.95-15 would be the shoulders.
- I would simply look at this 12.45-15 area as a historic support range. 
- Betting on support around 20 in 2016 did not work out. 

Trade Idea:
- But, I believe in solar, especially as oil continues to rise.
- Thus, I am planning to "sprinkle" some small positions in around 15, with plan to increase position size down to 12.50. 
- A recovery to 20 would be at least a 30% gain. 
- If the average position size is around 14 and the stop is 12, the risk is slightly above 14%.