If Gold (XAU/USD) Retreats, Anticipate Support Around $1370
Gold $XAU has been rallying sharply in June. We recently noted a bullish breakout but suggested there could be resistance around $1400. There was a support/resistance pivot around here, up to $1435 area. Indeed, price came up to $1435 before finding resistance and retreating a bit this week. However, I think the overall gold market is still bullish in the medium-term, so I would anticipate support after a short-term correction.
Gold Daily Chart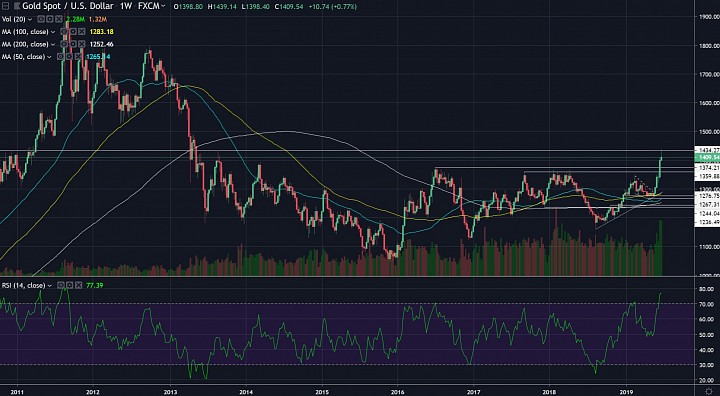 (click to enlarge)
Anticipating Pullback; Support:
- The daily chart shows gold retreating a bit after tagging a previous resistance pivot area just above $1400.
- If price does retreat in the short-term, I would anticipate support in the previous resistance around between $1360 and $1375, or around $1370.
- Indeed if price does bounce off of this area, I would anticipate a push through the $1435 resistance towards the $1500 area as well.
- I don't want to be too optimistic of gold rallying towards those highs around $1900 from back in 2011, but I think the $1600 area is doable.
- In 2011 through 2012 , the $1500-$1600 area represented the support or neckline of a price top. I can see price finding resistance when revisiting these levels.