GW Pharmaceuticals (GWPH) Soars After Earnings Beat
GW Pharmaceuticals $GWPH released Q2 earnings and the market is loving it.
Here's a summary from Investor's Business Daily:
...
Biotech Stock Pops Higher Alongside Demand For Cannabis Medicine
During the second quarter ended June 30, GW Pharma reported $72 million in sales, well above the estimate of analysts surveyed by Zacks Investment Research for $47 million. In the year-ago period, sales were just $3.3 million following Epidiolex's approval.
Epidiolex is the only drug derived directly from the cannabis plant to gain Food and Drug Administration approval. It treats a pair of seizure disorders that begin in childhood. During the second quarter, Epidiolex sales were $68.4 million in the U.S.
...
---
Ahead of the earnings report, GWPH was in a bearish correction mode. I have been following this pullback and had dry powder at $152.
GW Pharmaceuticals (GWPH) in Correction Mode; I am Eyeing the $152-$155 Area
GWPH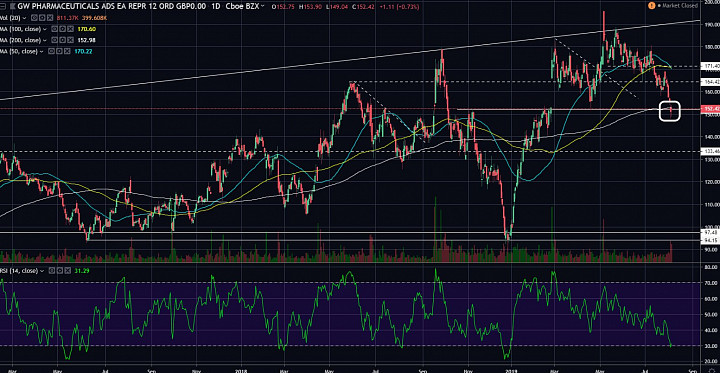 (click to enlarge)
Key Support:
- The daily chart shows that the $152 area is a key support/resistance pivot area.
- The 200-day simple moving average (SMA) also reinforces this area.
- Meanwhile, the RSI is tagging 30. In a bullish trend, the RSI is showing oversold condition.
- I think $150-$152 is indeed a key support.
- If this fails, the bullish outlook will be shaky.
- Still, a hold above $130 will maintain a bullish outlook.
- A break below that would open up $95-$100, and the outlook would not be bullish.