AUD/USD Continues to Slide; Watch for Support Around 0.75
On Monday, the Reserve Bank of Australia (RBA) held its benchmark rate and gave a statement that suggested the end to its rate cutting campaign. This should be a positive for the AUD, and we did see an initial bullish reaction in AUD/USD. However, as we continued to stalk the reaction, we came to see that the bullish push failed, suggesting a bearish outlook.
AUD/USD 4H Chart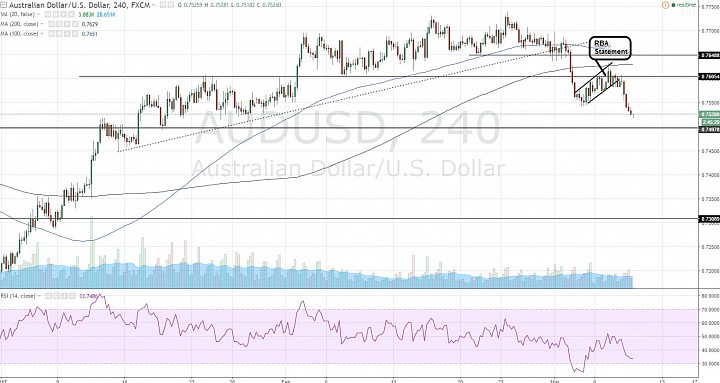 (click to enlarge)

Bearish Breakout:
- As we can see on the 4H chart, price eventually broke below a consolidation flag pattern.
- This would be the second bearish swing since price stalled around 0.77.

Monitoring Support and US NFP:
- We also noted in the previous update that the 0.7550 and the 0.75 levels could provide some support.
- So far, the 0.7550 area, which was the previous support, gave way.
- Now, I think price might slow down around 0.75.
- The slowdown could be attributed to the technical support level and whole number. But, the market is also likely tentative with the USD ahead of Friday's Non-Farm Payroll report. 
- The main thinking is that if jobs data continue to be strong, the Fed will raise rates. This perception should strengthen the USD further.
- However, if the market does not believe the jobs data to be convincing enough, AUD/USD might find support in the 0.7450-0.75 area. 
- On the 4H chart, we can see these levels to be previous support pivots as well. 
- Now, if the USD gains momentum and price does break below 0.7450, price will open up to the 0.73-0.7310 pivot, with the most aggressive bearish outlook limited to around 0.7150, the low of the price range AUD/USD has traded within since May 2016.

AUD/USD Daily Chart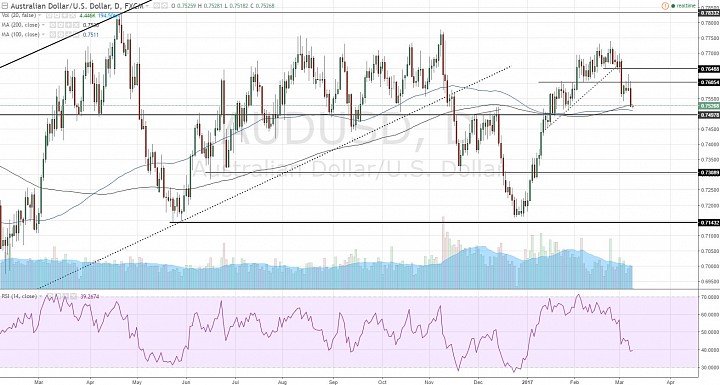 (click to enlarge)

The daily chart also shows why the 0.75 is key. In fact, if price stays above 0.75 after Friday's close, we could be seeing a bullish development. I say that because price would be bouncing off the 200-day and 100-day simple moving averages while the RSI would be bouncing off 40. This combination is indicative of a bullish trend developing. 
So, one last time, 0.75 and Friday's US NFP will be the key level and event to monitor.