Bitcoin (BTC/USD) About to Test a Critical Resistance at $6000
Bitcoin $BTCUSD has been rallying in April. It started with a sharp jump, and has since been choppier, but still made higher highs and higher lows. We noted upside towards The $6000 level, which would be critical resistance.
Bitcoin (BTC/USD) - The Price Story As Told be Triangles
BTC/USD Daily Chart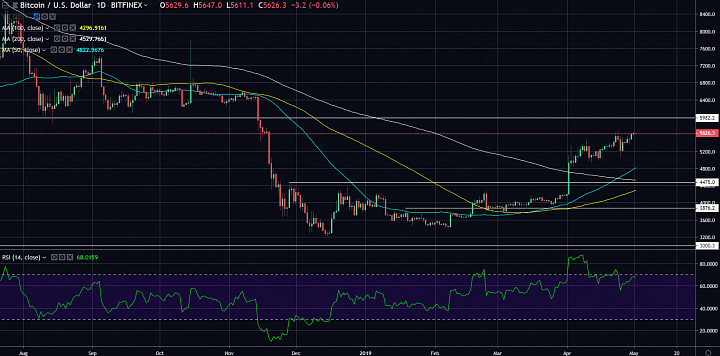 Positive Reversal:
- As price rallies, there is a subtle signal that BTC/USD will make another higher high.
- The RSI low made a lower low, while the price low made a higher low. This is known as a positive reversal signal, and suggests that despite slower momentum, the market is still bullish.
- If price does make a higher high, BTC/USD will be moving closer to $6000, and thus closer to a key resistance.
- The chance of a volatile pullback rises as price closes in on this level, which use to be support throughout 2018 before mid-November when it broke and allowed price to fall to almost $3000.
- IF $6000 is a critical resistance, the $4400-$4500 area has become a critical support. This is where the 200-day simple moving average resides, and was a previously common resistance area.
From CoinPowR