US Non-Farm Payroll disappoints; USD/JPY retreats
The US non-farm payroll report showed that 156K jobs were added in September. This missed the economists' expectations of around 171K. The August reading was revised up to 167K from 151K. 

Here area some notes from the official release:
The unemployment rate, at 5.0 percent, and the number of unemployed persons, at 7.9 million, changed little in September. Both measures have shown little movement, on net, since August of last year.
The number of persons unemployed less than 5 weeks increased by 284,000 to 2.6 million in September. The number of long-term unemployed (those jobless for 27 weeks or more) was essentially unchanged at 2.0 million and accounted for 24.9 percent of the unemployed.
In September, both the labor force participation rate, at 62.9 percent, and the employment-population ratio, at 59.8 percent, changed little.
Full press release on bls.gov

The market is still digesting this data, but not surprisingly, the initial reaction has been bearish for the USD.

USD/JPY 10/7 4H chart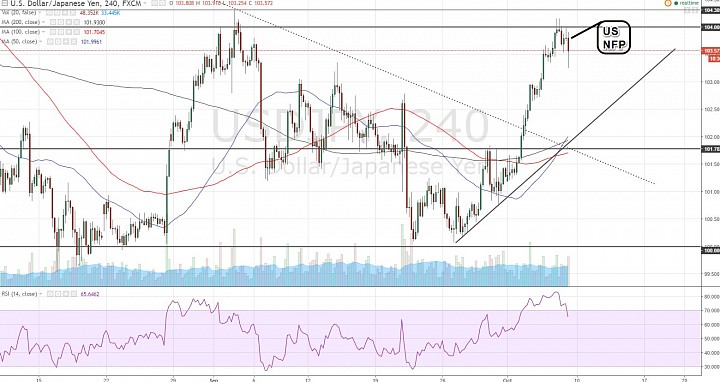 (click to enlarge)

Retreating from resistance:
- The 4H chart shows a USD/JPY has been bullish after holding above 100 in September. 
- The rally stalled when the pair came up to the September high just above 104.00.
- With a disappointing jobs report, the USD/JPY retreated further after the release. 

Expecting support:
- I think the USD/JPY can fall back towards 102, which would be the middle of the current range between 100 and 104. 
- The reason I don't have an aggressive bearish outlook despite the disappointing jobs report is that USD/JPY has shed it bearish outlook, and is essentially neutral to me in the medium-term (bearish in the very short-term). 
- Within a sideways market, the middle of a range can be considered an "equilibrium" or "fair" price. 
- I wouldn't get too hung up on this "fair" price concept, because it is a moving target that seems to move whenever it becomes apparent. 
- The point is, we should expect a short-term dip, but don't be surprised if USD/JPY holds aaround 102.