Twitter (TWTR) in an ABC Correction?
Is Twtiter $TWTR in an ABC correction? If so, we shoudl anticipate a push towards the $24-$25 area.
TWTR Daily Chart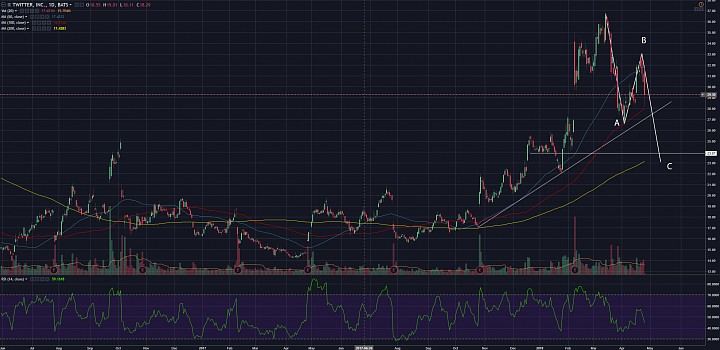 (click to enlarge)
ABC Correction:
- It looks like Twitter's rally coincided, or possibly reinforced as well, the December run 2017 as well as early 2018.
- However, price has been correction mode since March, again coinciding the general market correction.
- The above chart shows an ABC correction which projects the C wave towards the $23 area, where it would test the 200-day simple moving average (SMA) as well.
Support at $28:
- We are also see support around $28.
- There is a rising trendline as well as the 100-day SMA.
- Meanwhile the RSI is still above 40.
- These are signs against the ABC correction because it say the overall trend and momentum is still bullish.
- This at least hints at a more sideways, maybe triangle type of consolidation.
- However, if price clears below $28 by the end of this week, we should anticipate the ABC correction scenario, especially if the RSI also falls below 40.