Advanced Micro Devices (AMD) Extends Earnings-Reaction and Breaks Consoldiation Resistance
We saw some big earnings reactions this week. Advanced Micro Devices $AMD for example rallied sharply during the 1/30 session after releasing its Q4 earnings report. I looked at this rally with some doubt and expected resistance around $24, which was a key consolidation resistance.
Advanced Micro Devices (AMD) Rallies After Earnings, But Still Trading Within Consolidation Range
During the 1/31 session, the rally extended and broke above the resistance around $24.
AMD Daily Chart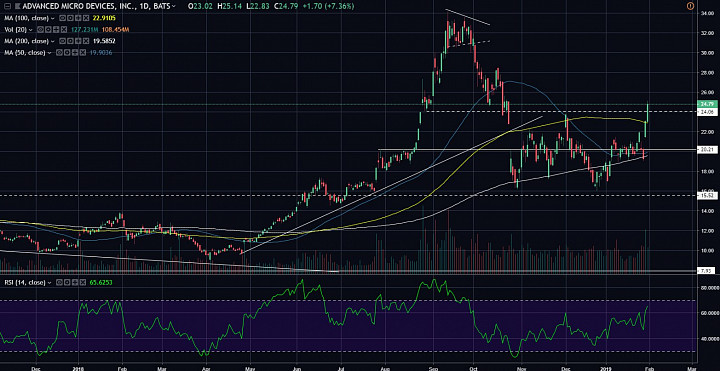 (click to enlarge)
Bulls Back in Charge?
- AMD had a bullish swing since April 2018 to September 2018. Then price retreated and bulls lost control of this market.
- The thing is, while bears were in charge in the short to medium-term, it appeared that the long-term outlook remained bullish as price held above a key pivot around $16. Furthermore, it mostly held above the 200-day simple moving average (SMA).
- The RSI however did reflect the bearish momentum as it pushed below 30 and than held under 60.
- However, the RSI is now pushing above 60, which shows loss of the prevailing bearish momentum.
- Finally, in combination with all these dynamics, the bullish breakout above $24 suggests that bulls are in charge.
Buy the Dip?
- For now, AMD has confirmed its resilience and bullish outlook. The 1/31 session was a mixed one, but slightly bullish, so part of this rally had to do with positive risk appetite in general. BUT, we can definitely say that AMD was more bullish than the general market was.
- Even though I am bullish on AMD, I don't believe the overall market is done with its bearish correction and consolidation phase.
- Maybe the consolidation ahead will NOT be as bearish as it was in October to November, so I would anticipate sideways choppiness ahead.
- With anticipation of further overall market risk, we can then anticipate a pullback in AMD.
- In this scenario, I would monitor the middle of the broken range, around $20-$20.50, as a key level of support and a consideration for a buy entry order.