Sprint (S) vs. T-Mobile (TMUS): Technical Analysis Shows More Upside for TMUS
The FCC has approved the T-Mobile/Sprint Merger, but the question is whether the DOJ will do so as well:
Sprint & T-Mobile: FCC Green Lights Merger, Will Justice Department Follow Suit?
Meanwhile, if we look at the price chart of these names, we can see that TMUS is superious to S.
Recently we saw both Sprint $S and T-Mobile $TMUS pop up. In both cases, price has been pulling back. But looking at the overall price structure, TMUS looks more likely to continue higher. Let's start with a chart of Sprint.
S Weekly Chart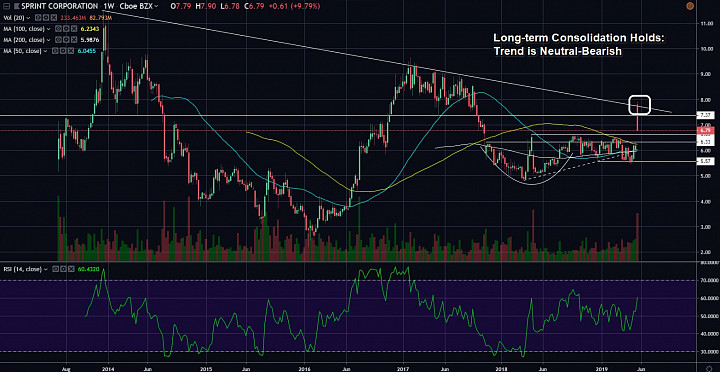 (click to enlarge)
Neutral-Bearish:
- When we look at the weekly chart, we can see that Sprint has been in a long-term consolidation since 2013.
- Within this consolidation, there is a bearish bias as price made a lower high in 2017. Furthermore, the recent rally respected a falling resistance, confirming this bearish bias
- We won't say S is bearish because of the ability to find support around $5.00 in 2018 (instead of falling towards the lows around $3.00 from 2016).
- Still, the market is definitely not bullish and we might see more consolidation ahead.


TMUS Weekly Chart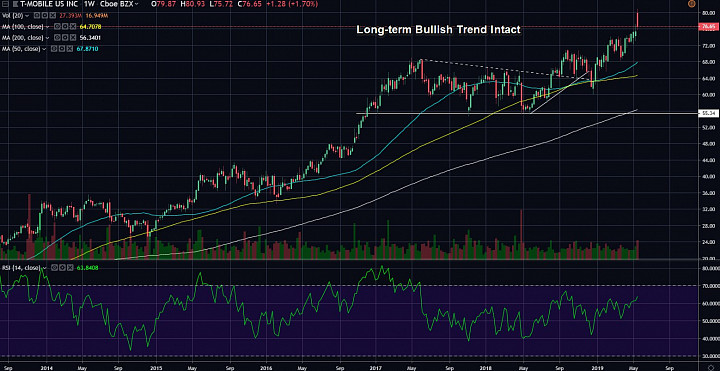 (click to enlarge)
Long-term Bullish Trend:
- We can see that TMUS has been in a long-term bull trend and this bullish structure is intact.
- The recent rally pushed price into fresh all-time-highs.
- While there is also a pullback like in the case of S, this pullback is not from a previous resistance.
- I would have more confidence in TMUS to push into fresh highs, or at least climb back to $80 after the current pullback.
- Price should find support around $76 if TMUS is indeed bullish. But if there is some risk aversion the current pullback might extend lower to $73-$74. Support here would still confirm the bullish continuation scenario.
- A break below $72 on the other hand could be a sign of a significant consolidation ahead, one that could resemble the significance of the 2017-2018 consolidation.