ECB Holds Interest Rates and Notes Option to Increase Stimulus; Euro Remains Bullish
The European Central Bank (ECB) held interest rates at 0.00% but noted that it was ready to increase its Asset Purchase Program if necessary. The ECB also lowered its inflation expectation. The bank however did not provide any guidance on when it will normalize rates.
It seems like the ECB is leaning towards more dovish policy, or simply staying course. The fact that the central bank has been dovish for such a long time dulls the impact of the dovish statement. Indeed, the market ended up buying up the euro across the board after the announcement.
I think the reaction today shows that the euro still has bullish momentum at least in the short-term. The EUR/USD for example has cracked 1.20 and has opened up the 1.25 handle. However, with a dovish ECB, I think we should not have expectation beyond 1.25 for EUR/USD. I also think price will become choppier between 1.20 and 1.25. This area represents the beginning of a large consolidation structure between 2009 and 2014.
EUR/USD Weekly Chart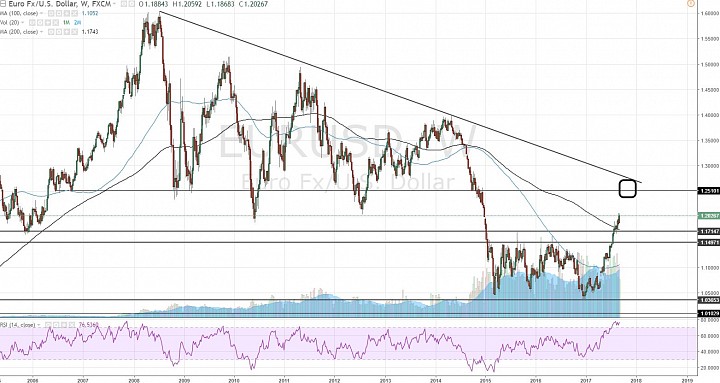 (click to enlarge)