Bitcoin (BTC/USD) - $6000 Support in 2018 Now Challenged as Resistance
Throughout most of 2018, Bitcoin was held above $6000, until it fell sharply below it in November. Since then, BTC/USD found support just above $3000 and has now rebounded back to the $6000 market, this time to test it as resistance.
Last week: Bitcoin (BTC/USD) - Another Push Should Bring it To Key Resistance
BTC/USD Daily Chart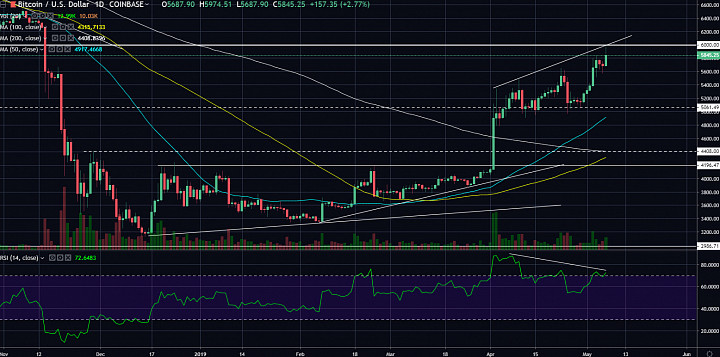 Bearish Divergence:
On the daily chart, we can see that price was in consolidation between roughly $3200 and $4200 before the bullish breakout in early April.
The rally slowed down when it hit $5000, but as we can see the market kept buying Bitcoin and gave it higher highs and higher highs.
While the bullish trend is still going, we do see a bearish divergence between the price and RSI highs.
Along with the fact that $6000 will be a key resistance level, I suspect we will see a pullback from here, or from just above $6000.
If there is a pullback, I think the $4800-$5100 area will be the first critical support area to confirm a bullish outlook with a target to at least the $6000-$6200 area. If price indeed bounces off $5000 and retests the resistance around $6000, I would anticipate another push higher. But I would be careful about trying to chase this. We might see a false breakout above $6000 towards $8000 to be followed by a sharp sell-off back to $6000 or even $5000.
Below $4800-$5000, I think the $4200 area will be the neck key support that can confirm a price bottom for a bullish outlook, or at least a period of sideways action with upside to $6000-$6200.
BTC/USD Weekly Chart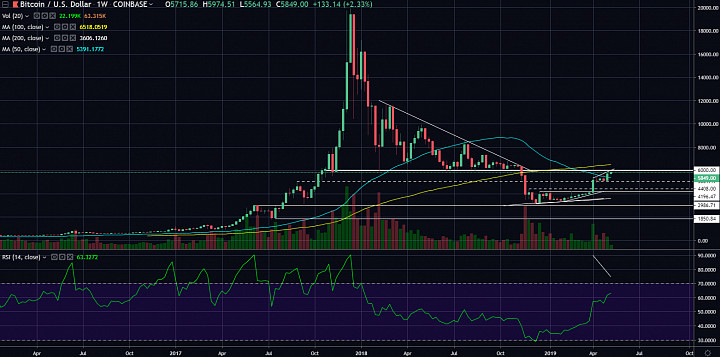 (click to enlarge)
From CoinPowR