The Canadian Dollar Surges after the Bank of Canada's Monetary Policy Announcement
During the 5/24 session, the Bank of Canada (BoC) announced that it was holding the benchmark interest rate at 0.50%. This was mostly expected. However, the market believes the bank is sending hawkish signals by downplaying the anemic inflation rate, and noting the recent "surprise economic burst", according to theglobeandmail.com. 

The Canadian dollar (CAD) rallied sharply. Let's take a look at USD/CAD. 

USD/USD Daily Chart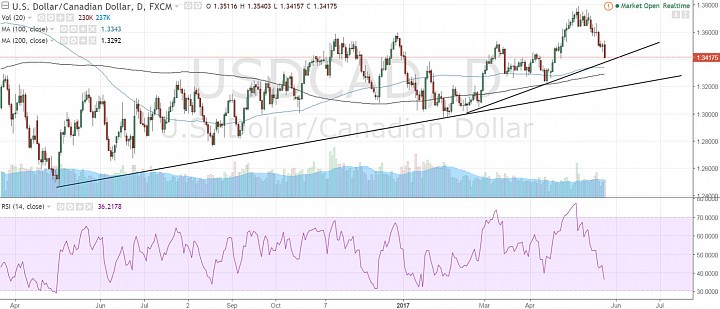 (click to enlarge)

Support Around 1.34:
- In the previous look at USD/CAD, we noted support around 1.34, where price will test a rising support.
- We anticipated price to test this support as the RSI tests 40.
- While price is still above 1.34, the RSI has dipped below 40, reflecting a loss of the prevailing bearish momentum. This tells us to be cautious because the bearish correction might extend below 1.34.
Support Around 1.32:
- If price falls below 1.34 and the RSI pushes towards 30, we might not see support until 1.32.
- There is a much more critical rising trendline as price approaches 1.32.
- Also, there will be a chance for the RSI to show a bullish divergence, which would give us more confidence of a subsequent bullish swing.

So , for now, I would not rely on 1.34 for support. I would at most test this support area with small positions. The 1.32 area has better reward to risk, and might be better for timing. 
Basically, 1.34 is like hunting for a trade, while 1.32 is like fishing for one.