Netflix (NFLX) Breaks Below Channel Support after the Disney (DIS) Unveiling
Netflix $NFLX was retreating on Friday after Disney $DIS unveiled its streaming package, which is definitely going to compete directly with Netflix.
We were already anticipating a pullback,
Netflix (NFLX) - Anticipating a Pullback vs. Q1 Rally

The Disney reveal added fuel to that scenario.
Disney Steals Apple's Thunder in Detail-Oriented Disney+ Reveal (thestreet.com)
NFLX Daily Chart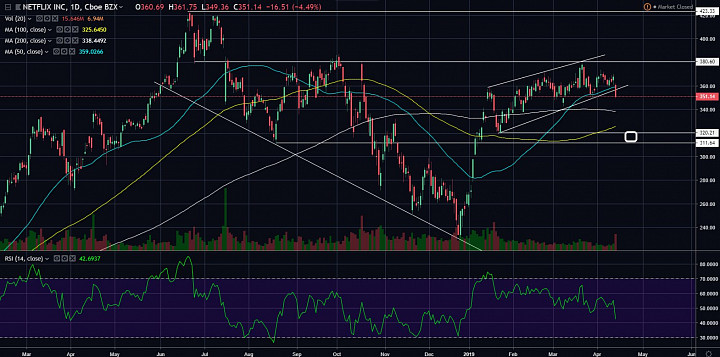 (click to enlarge)
Anticipating Support:
- As noted in our previous Netflix assessment, the downside is now opened up to the previous support area between roughly $311 and $320.
Anticipating Earnings:
- Tuesday's earnings report (4/16) will play a key role on whether price retreats.
- While Netflix has been on a roll with subscriber growth, it has also pushed expectations for its continuing growth which will be hard to satisfy.
- Thus I think expectations will regress, which would be reflected in a price pullback.
- However, I don't think there will be reasons to be bearish on Netflix neither outside of the short-term.
- With these considerations, I am looking to buy Netflix on a dip if indeed falls to $311-$320 area after Tuesday's earnings report.