US NFP Disappoints; CAN Jobs Data Surprises; USD/CAD Falls
Today, we got the US NFP jobs report and Canada's jobs report. 
US NFP Employment Change (Oct): 214K
Forecast: 235K
Previous: 256K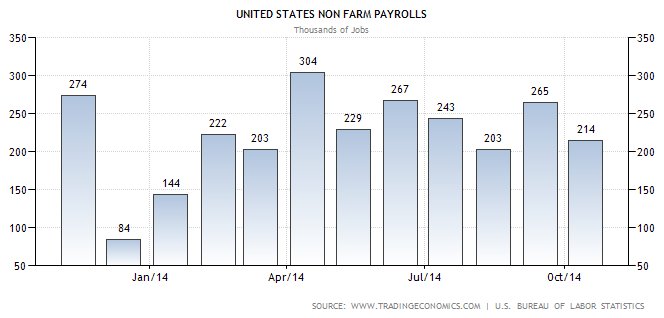 (click to enlarge; source: tradingeconomics.com)
We also saw the unemployment rate slide to 5.8% from 5.9%, which is a 6-year low. The average hourly earnings grew 0.1% in October continuing a string of data that shows lack of wage growth.

CAN Employment Change (Oct): 43.1K
Forecast: -3.9K
Previous: 74.1K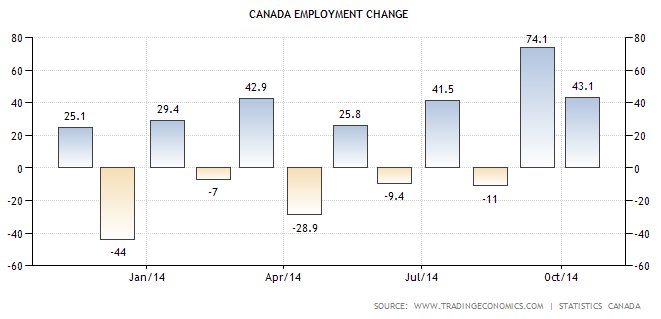 (click to enlarge; source: tradingeconomics.com)
The unemployment rate fell from 6.8% to 6.5%, surprising forecasts calling for about the same reading as the previous.
US jobs data disappointed slightly, but it does not change the overall trend of an improving job market. The more important data today was probably the average hourly earnings growth, which was 0.1% after 0.0%. Unless we start to see a pick up in wage, the FOMC will have a tough time raising rates by mid-2015.
In 2014, Canadian jobs data has been volatile, up one month than down the other. We finally had 2 straight months of growth in September and October. This is a positive surprise and accelerates the labor market recovery in Canada. Will this have any material impact on the Bank of Canada's monetary policy calculus? Perhaps it has a little, but we should not expect one month of strong data to imply any hawkish monetary shift. 
Essentially, when we look at the USD/CAD, the question is how do we treat this bearish reaction. The reaction makes sense in terms of dealing with the headline numbers. However, after the reaction, we are dealing with the expectations of central bank policy, which should not have changed.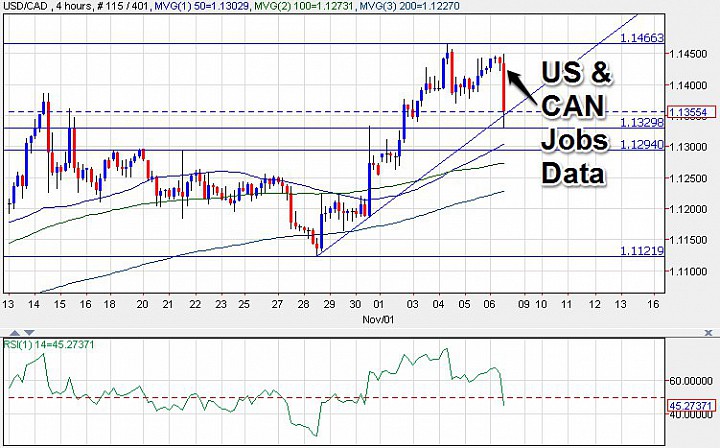 (USD/CAD 4H Chart 11/7; click to enlarge)
If the belief is that USD/CAD should remain bullish there are 2 support levels we should expect buyers at. 
The current 1.1350 area, is supported by a rising trendline. We are seeing some buyers here, but if price holds below 1.14, we might have some more downside risk in the short-term. Right under 1.1350, the 1.1295-1.13 area involves a previous resistance pivot, and the 50-period simple moving avearge (SMA). We should see buyers here especially if the 4H RSI dips to 40 and stalls there.
If price extends below 1.1250, we should shelve the bullish outlook for now, but the bearish outlook should still by limited to 1.1122 and above.