Netflix (NFLX) Bullish Breakout Opens Up $280; Earnings Ahead
Netflix $NFLX has been rallying sharply. It looks like more than just part of the overall broad market recovery since the turn of the year. The extra push could be driven by 1. Fact that Netflix has the capability to curtail sharing. 2. Increase of subscription fees (3 plans: $8 to $9, $11 to $13, and $14 to $16). We will also have earnings 1/17. I think the market is expecting a strong guidance due to these positive changes, but I think the market will be disappointed and general market risk will come back to pull NFLX down after the dust settles from the earnings report.
New software aims to crack down on Netflix account sharing (AJC.com 1/12)
The Price of Netflix Is Going Up (Popular Mechanics 1/15)
NFLX Daily Chart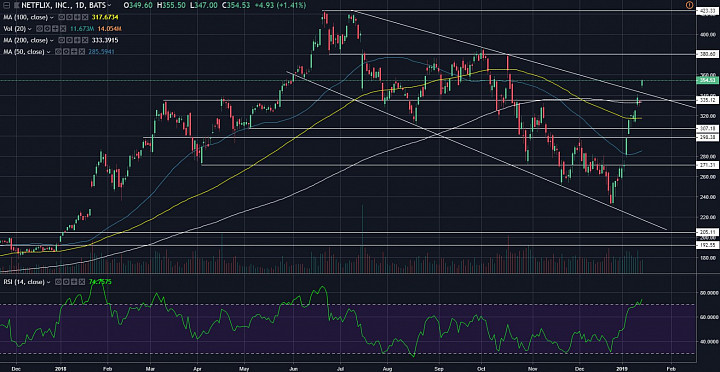 (click to enlarge)
Bullish Breakout:
- I was anticipating resistance around $335-$340, which involved a support/resistance pivot and a falling trendline and the 200-day simple moving average (SMA)
- However, as we can see on the daily chart, the sharp rally has cut through this resistance like knife through butter.
Next Resistance:
- Now the next resistance will likely be around $380, a support/resistance pivot.
- If we see a bearish divergence between price and the RSI as price approaches this level, we should anticipate some selling.
- The thing is, I think the bearish correction mode in Netflix has turned into a sideways market if not a bullish one - I think its not bullish due to existing market risk in 2019.
- With this anticipation, we would probably limit the downside risk to $300, or maybe $270-$280 area, but not the December 2018-low around $231.25.
- I have essentially no position in Netflix (NFLX) since it came back up to $335. I have prepared dry powder for a dip to $200. The recent rally has me reconsidering, and reaching for buy orders closer to $280. (I intend to buy and hold for at least a year).