Bitcoin (BTC/USD) - Ascending Triangle Suggests Upside Above Current Resistance Around $5400
Bitcoin's $BTCUSD price has been bullish in the past couple of months after stabilizing above $3000 at the end of 2018. There was a period of consolidation under $4200, but price broke that resistance at the end of March, and BTC/USD surged to $5350-$5400 area before settling again.
In the 4H chart below, we can see price essentially holding under $5400 with a relatively flat resistance. Meanwhile, the lows have been getting higher and higher. This describes an ascending triangle, the same pattern we saw when price was consolidating above $3000 and below $4200.
BTC/USD 4H Chart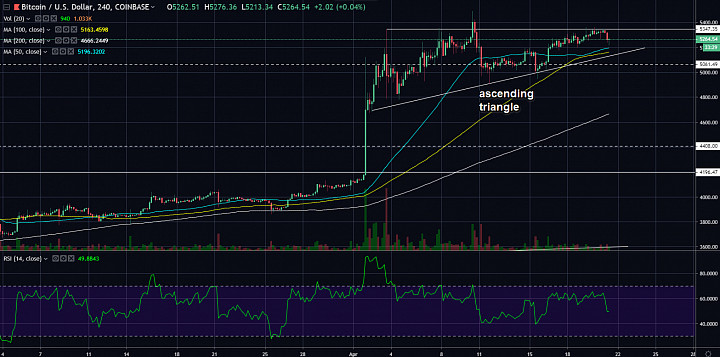 (click to enlarge)
The 4H also shows us that the RSI has been holding above 40 after it pushed above 70, 80, and even 90 back in late March.
The RSI here reflects maintenance of the bullish momentum.
However, volume has been drying up, which means the market will likely need another catalyst to rally, instead of riding the prevailing bullish momentum.
If we do get a catalyst and price clears $5400 again, the $6000 area will be next. This was a key consolidation support throughout 2018 and will likely become a key resistance. (This was the support of a descending triangle
When we look at price action since early 2018, we can say that BTC/USD has been trading in triangles.
The 2018 triangle lasted almost the whole year in 2018, until November.
Then the ascending triangle that followed took 4 weeks to develop before breaking.
The current triangle is pushing a month.
Interpretation, Expectation:
What can we make of the consolidation patterns getting smaller in both price and time?

In the long-term, these patterns will just be noise.
But in the short-term, it looks like a market that is getting antsy. Maybe this is a bullish sign, but for the very short-term (looking ahead a month or two).
Without speculating too far, I would say that the only thing I can anticipate is a push to $6000 IF price clears $5400.
On the other hand, a break below $5000 would open up the $4200-$4400 area.
BTC/USD Daily Chart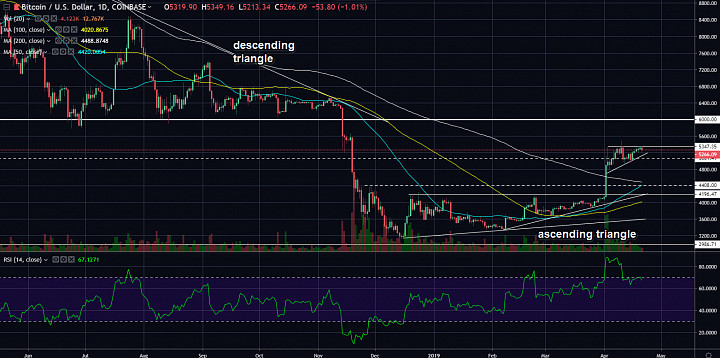 (click to enlarge)
From CoinPowR