Microsoft (MSFT) breaks free from year-long range
Microsoft (MSFT) price action has been neutral since late 2015 after rallying from 40 to 56.85. 
MSFT Daily Chart 8/9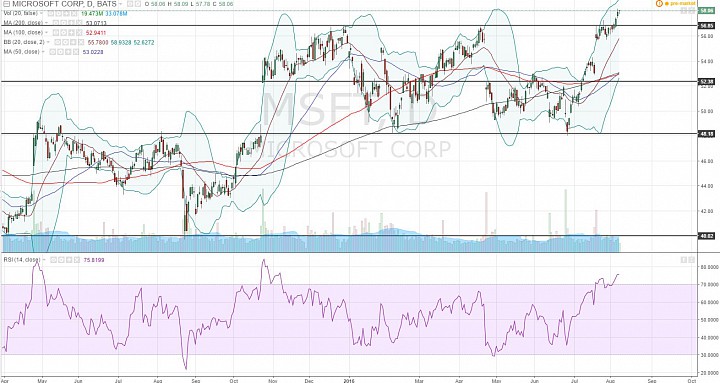 (click to enlarge)
Range breakout:
- As we can see in the daily chart, MSFT then started to trade between 48 and 56.85. 
- Price action this week is making it clear that MSFT is breaking above the year-long consolidation range. 
- The breakout opens up a bullish continuation scenario.
Range target:
- The range high of 56.85 is about 18.4% higher than 48. 
- A projection of 18% above 56.85 targets around 67. 
- From a conventional range breakout target, MSFT has upside risk towards 65-67. 
New key support:
- With the bullish breakout, any bearish moves should be limited (should not go back to 48) - that is if MSFT is indeed turning bullish.
- If there is a bearish pullback price should hold above the 52-52.50 area, which represents the central pivot area of the broken range. 
- We can expect support from above the central pivot - 54 is another key pivot.
Bearish opinion:
Not everyone is bullish on MSFT. Here's another opinion with a fundamental/valuation focus: 
Microsoft is Probably Overvalued (Long/Short Investments)