Aurora Cannabis Inc. (ACB) Remains Bearish Within Consolidation Mode
Aurora Cannabis $ACB is in a 2-year consolidation mode that started at the start of 2018 when price found resistance at $12.25.
ACB Daily Chart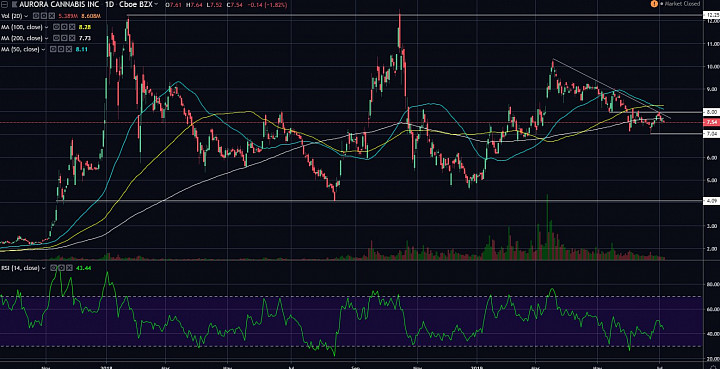 (click to enlarge)
Bearish Within Consolidation:
- On the daily chart, we can see that price is trading in a wide range between roughly $4.10 and $12.25.
- Price retreated from $12.25 twice in 2018.
- In 2019, price failed to reach $12.25, and instead found resistance just above $10.00 in March.
- Then price fell back below the 200-day simple moving average and central pivot around $8.00.
- This failure to reach the resistance could be seen as a bearish sign within the consolidation context.
- Next, price has found resistance at $8.00 twice since breaking down this level as support. Support turning resistance is another sign that bears are in charge at least in the short-term.
Downside:
- I think a break below $7.00 is going to happen in July and that will open up the $4.10-$5.00 area.
- If price does reach this area, I would not rely on it for support outside of the short-term. The failure to reach $12 area is a warning that there could be further downside.
- Therefore, I would not be surprised if price eventually breaks down this support area and reaches into the $2.50-$3.00 area, which represents the top of a previous consolidation range.
$8.00:
- $8.00 is a key central pivot. Resistance from it is the key signal for the bearish outlook.
- Thus, a break above $8.00 might make this bearish outlook unlikely.
- However, it wouldn't be a bullish signal, unless $8.00 becomes support.


ACB Weekly Chart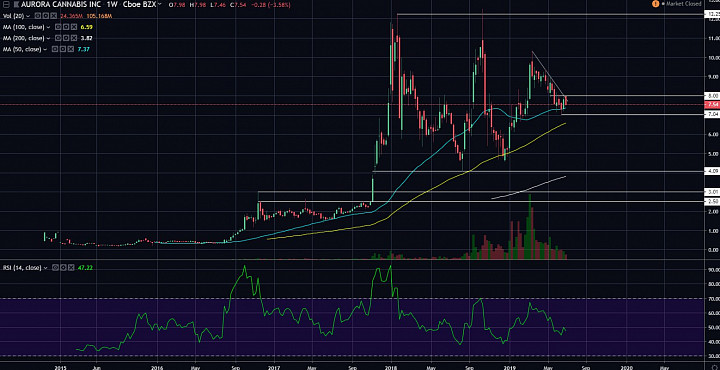 (click to enlarge)