Tesla Inc. (TSLA) at a Crossroad with Bullish Bias
Tesla has been in a period of consolidation since mid-2017 when price peaked around $387 a share and eventually retreated to a low around $245 in March 2018. At the time, it looked like TSLA established a price top. However, the market has NOT respected this price top, and has signaled bullish continuation with the bull swing in June. As price retreated again, TSLA is at the crossroad between further consolidation and bullish continuation.
TSLA Daily Chart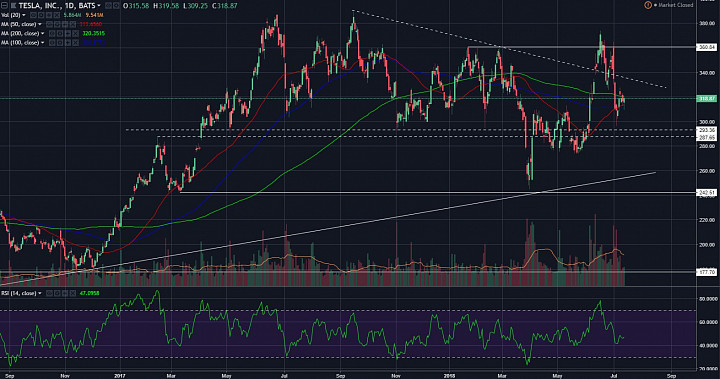 (click to enlarge)
Bears lost Control:
- The market looked bearish in March and April with price falling below $300 and establishing a top.
- Now if price held under the 200-day simple moving average (SMA), or at least the falling trendline (aroudn $340) , and the daily RSI held under 60, then we would be looking at strong bearish correction signals.
- However, price pushed through the noted resistance factors, and the RSI pushed above 70. This was a strong push that suggests the market might have returned to the bullish mode on TSLA.
- As price swung back, we can see that it is now settling just above $300 (another bullish signal). The RSI is holding above 40, which also suggests maintenance of the recent bullish momentum.
- I think if there is another test of $300, and if it holds, the market will gain confidence for the bullish outlook,.
- Even at this moment, I think there is some bullish bias at the crossroad.
- A dip below $300 on the other hand, would be a major crush to the bullish continuation outlook, and would likely reflect a market that is still in consolidation and maybe even downside risk back down towards $245.