Bitcoin (BTCUSD) Looks Persistently Bullish as it Breaks Above 6000
So, is 6000 going to become support now? Bitcoin $BTCUSD broke into record highs over the weekend almost tagging 6200 before retreating.

BTCUSD 4H Chart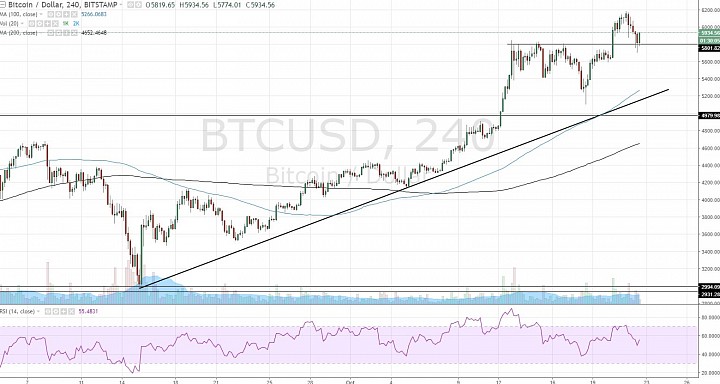 (click to enlarge)
Bulls in Charge:
- Looking at the 4H chart, BTCUSD looks persistently bullish.
- During the 10/22 session, price retreated before reaching 6200.
- But so far, the previous resistance, 5800, is showing support. This is a sign that bulls are in charge.
- Now, if price can clear below 5800, then we can expect a period of consolidation or even bearish correction.
- But for now, price action only shows a bullish trend and there is really no technical analysis basis to project where this trend will go.
- All I can tell you is that support at 5800 shows bulls are in charge. So, a break below 5800 will be the minimal clue for a outlook of consolidation or bearish correction. But I think we should probably wait for more clues before calling for a top.